Do you know what Live Security Professional is?
Live Security Professional is yet another rogue antivirus from the infamous Reveton family. This family has been known to produce countless ransomware and Trojan infections, and so this rogue program should be treated as a very serious threat to your system.
This bogus antivirus program has a sleek design and tries to intimidate you into buying its "full version". Needless to say, if you do pay for it, not only do you lose your money, but you also expose your personal info to criminals. The only safe option is to remove Live Security Professional before it causes severe damage.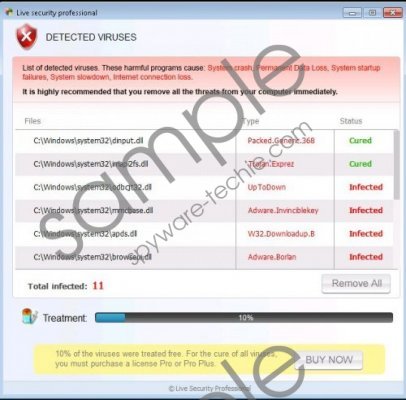 Live Security Professional screenshot
Scroll down for full removal instructions
If you have not been tricked into downloading Live Security Professional on your own, you may be unsure as to why it is in your computer. That is because this infection often comes in as a drive-by download with a freeware or shareware program; sometimes it hides in a spam-email attachment, too. Also, there is a possibility that this program may travel via dangerous Trojan infections.
When this rogue is already installed, it will not hesitate to make its presence known. In hopes of making you purchase their "full version", the criminals have designed their program to generate fake alerts and messages. However, even if the viruses your computer is supposedly "infected with" are real, it is more than likely that they actually are not in your system. Whatever you do, do not purchase their "full version"; instead, delete Live Security Professional.
Examples of the messages you may see:
WARNING! 8 infections found.

It's highly recommended that you remove all the threats from your computer immediately. Viruses can cause for a theft of your personal information from bank cards.

VIRUS DETECTED

A tool used to remotely attack hackers computers and steal personal information. Therefore, it is recommended to remove it.

Virus name: Trojan.Komodola
If you have tried removing this infection, you already know it can be quite tricky. The safest option is simply to download a reliable malware removal tool and your computer will be safe and sound again. It will remove Live Security Professional, and it will protect your system from similar threats entering in the future. You should not attempt manual removal if you do not have en extensive experience dealing with those kinds of infections.
Live Security Professional Removal Guide:
Enter this activation code: F9292-QRT38-U9291-29291-3923F. (It will NOT remove the threat by itself.)
Download SpyHunter.
 Install and RUN the spyware scanner.
Delete infection that spyware scanner detected.
In non-techie terms: Live Security Professional is a dangerous rogue antivirus. Its goal is to intimidate you into buying their fake "full version"; however, you should not do that. Instead, you should remove this infection from your computer immediately, because it can cause serious damage.
Aliases: LiveSecurityProfessional.