Do you know what Live PDF Converter is?
Live PDF Converter might sound like a PDF converter, but the application's description says that it changes default search engine. Apparently, the extension's provided search engine is supposed to give users access to "Optimized Search Results powered by Yahoo!" Naturally, if you are already searching with the Yahoo search engine and you expected to get a PDF converter, you might be disappointed in this application. If you are, you could use our removal guide available below that shows how to erase Live PDF Converter from Google Chrome. As you see, the extension does not work on other browsers at the moment of writing. Of course, if you do not know yet if you want to keep it or not, you could read the rest of this report to learn more about it.
One of the things you should know about Live PDF Converter from the start is that it was classified as a potentially unwanted program. Such tools might not be harmful, but they can have undesirable functionality. Also, it is worth mentioning that such applications are often distributed via unreliable file-sharing websites and pop-up advertisements. Thus, if you do not want such software on your computer, you should make sure that your downloaded installers come from reputable websites only. Plus, our researchers recommend researching all tools that you want to install before making your final decision. Most importantly, we advise checking if a program comes from a reliable developer and whether it has good expert and user reviews. If you do not think that being cautious is enough, we recommend installing a reputable antimalware tool that could keep your system clean as well as protected.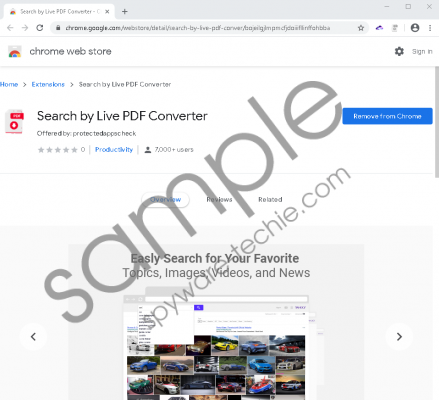 Live PDF Converter screenshot
Scroll down for full removal instructions
After Live PDF Converter is placed on Google Chrome browsers, it ought to change their default search engines with a website called feed.livepdfconverter.com. Our researchers say that inserting keywords into its provided search box may result in redirection to a modified Yahoo search engine. A modified version is not the same as the original, for example, it could show additional advertising content that the original search.yahoo.com would not display. If the potentially unwanted program or its presented search engine appears to be showing any third-party advertising content, you should know that it could be targeted. As you see, the application could view your browsing history and Live PDF Converter's Privacy Policy says that the data it gathers could be used to "Recommend content based on your preferences." Since third-party ads might be not only annoying but also unreliable, we advise being cautious.
If you decide that you do not need the discussed extension, you could erase Live PDF Converter. One of the ways to get rid of it is to go to Google Chrome's extensions manager and delete it from there manually. The removal guide available below this paragraph can show you how to do this. On the other hand, if this task sounds too challenging, you could employ a reputable antimalware tool and let it eliminate Live PDF Converter for you.
Erase Live PDF Converter
Open Google Chrome.
Insert chrome://extensions into the address bar and press Enter.
Search for Live PDF Converter and click Remove.
If needed, confirm that you wish to Remove it.
Close your browser.
In non-techie terms:
Live PDF Converter was classified as a potentially unwanted program due to its working manner. It seems that instead of converting files the application might provide a search engine that redirects to Yahoo search engine. Also, our researchers say that the tool might view users' browsing history. Visited websites, used search keywords, and data related to browsing is private to some users and, as a result, they might not like the idea that this potentially unwanted program could have access to their browsing history. If you are not a fan of such functionality either and do not want to keep this extension any longer, you could erase it manually while following the removal guide available above. Also, you could eliminate Live PDF Converter with a chosen antimalware tool as soon as you perform a full system scan with it. After the scan, you should be able to remove all detections at once by pressing the displayed deletion button.