Do you know what Lite PDF Reader is?
Lite PDF Reader may sound like a great choice of a free PDF reader software, but our researchers beg to differ. As a matter of fact, this software has shown a few questionable traits while it was tested in our internal lab. This made our researchers categorize it as a potentially unwanted program (PUP). We do not encourage anyone to keep or use such a program when it exhibits such traits as we will explain later on in this article. It is also possible that if you find this PUP on board, there could be malware infections there, too that may have sneaked onto your system all together. These infections may cause more serious system security issues by exposing you to malicious third-party web content or stealing information from your computer. This is why we suggest that after you remove Lite PDF Reader, you do not stop at that but go on until you eliminate all possible threats from your PC. Before we tell you how you can do this, let us tell you in more detail how this PUP may have appeared on your system along with malware threats and what you can do to avoid similar situations.
One way for you to download this PUP is to visit its promotional website, litepdfreader.net. This is a simple website but, at least, it looks professional. You can easily download the installer by clicking the "Free Download" button. We really cannot say anything against it. But what do you think are the chances that you find this page? It is more likely that you have never heard of it and never visited it either. So how is it possible that you have it on board? The answer is easy, though you will not like it at all. This PUP can also be distributed on the web in free software bundles that may not always only contain legitimate free programs. In fact, schemers widely use this method to infect unsuspecting computer users since most of them still do not check the installation screens carefully and this is how they end up with a whole bunch of malware threats and PUPs in one single go.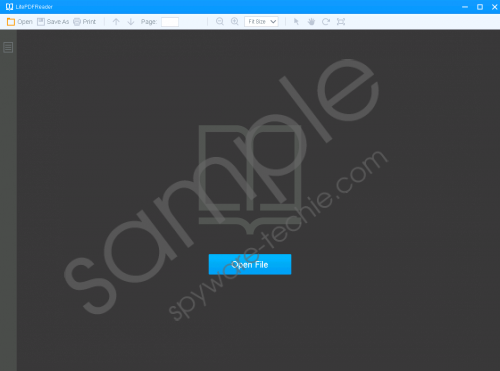 Lite PDF Reader screenshot
Scroll down for full removal instructions
These bundle installers are usually designed to be misleading or deceptive, and that is how you may overlook a notification or checkboxes selected by default. Of course, there are cases when you can only know the true content if you read the license agreement carefully. It is always important that you choose the custom option instead of quick installation because it may give you a chance to say no to certain contents and opt out. A lot of users download such software packages when they try to download a free program from the wrong file-sharing website. It is also possible to drop one when you click on unsafe third-party ads and links, which can be presented to you by suspicious websites or by malware infections hiding already on your system. If you want to protect your system from further virtual security issues, it is essential that you scan your PC with a reliable malware scanner after you delete Lite PDF Reader.
This PUP tries to make you believe that it is so useful and "lite" that it is like the fastest solution for you to read PDF files; however, this cannot be farther from the truth. In fact, this software is probably the slowest you can imagine since it does not associate .pdf files with itself; therefore, first, you need to run this PUP and use its "Open File" button or the "Open" menu button to open a file. This is certainly way slower than simply clicking twice on a .pdf file. This software also seems to have a service running in the background that our researchers could not figure out what it really does. In any case, this mysterious service autostarts with your Windows operating system every time you log in. Unfortunately, this software can also gather data about you, including personal information, that can be shared with third parties. All things considered, we believe that the best solution for you is to remove Lite PDF Reader as soon as possible.
If you are ready to act, here is what you should do to get rid of this useless PUP. Open your Control Panel and go to the list of the installed programs. Locate the uninstaller and run it. If you have never done this before, do not panic, we have prepared the necessary steps for you below this article. Please follow our instructions and clean your system of this PUP in no time. If you want full protection for your PC, we advise you to download and install a decent malware removal application like SpyHunter. What could be more efficient and more comfortable than the automatic detection and elimination of all known threats?
Remove Lite PDF Reader from Windows
Windows XP
Click Start and open Control Panel.
Choose Add or Remove Programs.
Select the uninstaller and press Remove.
Windows Vista, Windows 7, Windows 8, Windows 8.1, and Windows 10
Press Win+R simultaneously and enter control panel. Press OK.
Navigate to Uninstall a program.
Select the uninstaller and press Uninstall.
In non-techie terms:
Lite PDF Reader is probably on of the "lightest" programs we have seen in this category. Our researchers have found that this potentially unwanted program does not even open PDF files when you double-click on them since somehow it does not associate with them. This is quite strange and really not too user friendly. This program does not offer you any options really; even its menu consists of about three buttons. So every time you want to go "lite" and open a PDF file with this allegedly "powerful" program, you actually have to run it first and then, open the file from the program. This questionable software may also collect personal information about you and share it with third parties, which may not always be the reliable kind. All in all, we think that it is not a good idea to either use this software or keep it on your system. In fact, we suggest that you remove Lite PDF Reader to be on the safe side. If you would like to safeguard your system from potential and malicious threats, we advise you to install a reliable anti-malware program as soon as you can.