Do you know what Lightning Savings is?
Lightning Savings is a browser plug-in, one of the products of 215 Apps, also known as Engaging Apps or Innovative Apps. Lightning Savings is a program which is aimed at providing you with special offers, online deals, discounts, and other shopping related information. The browser add-on monitors your search terms and displays coupons on commercial websites, and could be a useful tool if its ads were confined to shopping websites; unfortunately, Lightning Savings accompanies you on basically every website and displays third-party ads, in the same way as many other adware programs.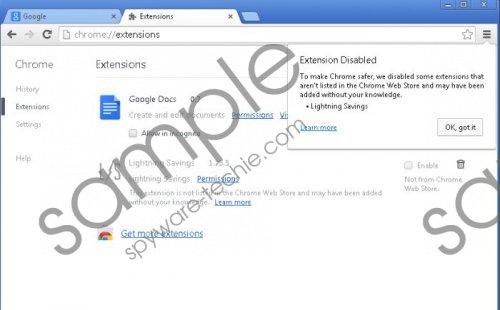 Lightning Savings screenshot
Scroll down for full removal instructions
Lightning Savings is compatible with three most popular Internet browsers, Internet Explorer, Google Chrome, and Mozilla Firefox. However, in the case of Google Chrome, the program is installed and immediately disabled by the browser. In order to get working, you have to check the box next to the name of the program in the Extension section.
Once installed, Lightning Savings starts displaying multiple advertisements, including web banners, interstitial advertisements, in-line advertisements, and pop-ups. Lightning Savings ads are owned by third-parties, and Lightning Savings does not accept responsibility for the offers delivered to your browsers. Your correspondence with third-parties is also your responsibility, which is why we recommend that you ignore those pop-ups and remove Lightning Savings from the browser.
There are multiple malicious websites that can be promoted by Lightning Savings; you may be invited to update your Internet browsers, Flash player, and other computer programs. Moreover, you may find pop-up notifications claiming that you are the winner of some mobile device or that you should take part in a survey to win some reward. Recent analyses have showed that adware programs such as Lightning Savings are commonly used by advertisers to deliver advertisements to unsuspecting computer users.
In order to determine your browsing patterns and enhance your online behavior, Lightning Savings monitors how you use the Internet. It records your clicks, impressions, search terms, browsing history, browser settings, and some other non-personally identifiable information, which is likely to be shared with third-parties for the purpose of providing you with targeted advertisements. Want to stop this? Take action to remove Lightning Savings, and the sooner you do it, the better.
Below you will find our step-by-step removal instructions which should help you rid the browsers of Lightning Savings; however, we highly recommend that you rely on a powerful spyware and malware prevention program because your computer needs protection against Internet-based threats.
How to remove Lightning Savings
Windows Vista and Windows 7
Click Start.
Select Control Panel.
Click Uninstall a program.
Remove Lightning Savings.
Windows 8
Move the mouse pointer to the lower-left corner of the screen.
Right-click.
Select Control Panel.
Click Uninstall a program.
Remove the adware program.
Windows XP
Open the Start menu.
Select the Control Panel option.
Click Add or Remove Programs.
Uninstall the adware program.
In non-techie terms:
Lightning Savings is an adware program, which you should remove from the computer if you want to browse the Internet as usual. If you do not know how to download and install our recommended programs, use the below-given installation instructions.