Do you know what LifeStyle New Tab is?
LifeStyle New Tab is nothing more than a potentially unwanted program that will only bring you unreliable search results via its questionable search engine. We suggest that you remove this program, because its developers want you to believe that it will provide you with the latest information on lifestyle and health, which is true to a degree. However, this program has been created with the intention to generate revenue from online promotions and advertising. If you are okay with this program changing your browser's new tab page and homepage, then you should know that it collects non-personally identifiable information about you for commercial purposes.
This particular program is yet another release from the Ask Partner Network, more commonly known as APN. This emerging software developer has previously released several other programs known as TuneJunkies New Tab and WorldSport New Tab. As you can see, the names given to these programs have a certain pattern which links all of them. In fact, all of these programs are clones. The only thing that sets them apart is their face. For example, LifeStyle New Tab is presented as a healthy lifestyle promoting app, while WorldSport New Tab features information regarding sport. However, this program's supposed purpose is irrelevant as it is just for show.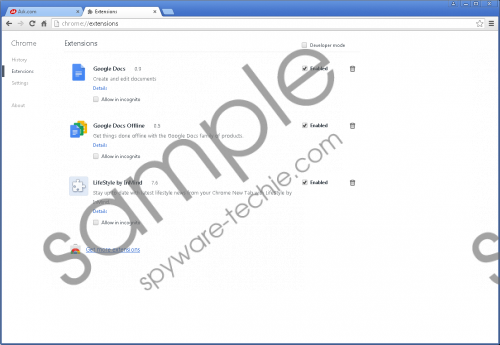 LifeStyle New Tab screenshot
Scroll down for full removal instructions
Due to the fact that WorldSport New Tab is undesirable, its developers resort to using adware programs to promote it. Pop-ups, coupons, and other forms of ads may contain links to this program's download website, and inattentive users may be inclined to give this program a try thinking that it is useful. In any case, WorldSport New Tab can also be downloaded from its promotional website at Lp.inmind-lifestyle.com. However, users rarely stumble on this website, so advertisements are its main method of distribution.
LifeStyle New Tab comes as a browser extension for Google Chrome as it is currently not supported by other browsers which is just as well as far as we are concerned. After this program is installed, it automatically changes a browser's homepage and new tab page to a modified version of the Ask.com search engine known as Search.ask.com. Our researchers say that this search engine is bound to collect information about its user's browsing activities and other information, such as technical information about a computer, time zone, language, and general geographic location, among other type of information. The collected information is not personally identifiable, because automatic collection of personal information is an infringement of privacy. However, you might not want LifeStyle New Tab to collect any kind of information about you due to its unreliable origins.
It is important to understand that the collected information is used for commercial purposes. It enables its developers and their clients to better prepare their advertising campaign in order to generate revenue. According to Search.ask.com's Privacy Policy, the search engine might include sponsored links and advertisements, which is unacceptable, because it modifies the search results, therefore interfering with your browsing and hampering the overall experience.
So, whether you want to delete LifeStyle New Tab or not is completely up to you. We do not regard it as a malicious program as it is not likely to put you or your computer in danger. However, this program is outright useless. If you want to see your old homepage and new tab page back, then you ought to remove LifeStyle New Tab from your browser.
How to get rid of LifeStyle New Tab
Open Google Chrome and simultaneously press Alt+F.
Click More tools and choose Extensions.
Find the undesirable extension.
Click Remove.
In non-techie terms:
LifeStyle New Tab is regarded as a potentially unwanted program, because it is set to automatically change your browser's homepage and search engine to Search.ask.com which is apt to include promotional links and advertisements in its search results. This program's search engine also has the ability to gather information about you and use it for commercial purposes. All in all, this program has nothing of value to offer to you. So feel free to remove it.