Do you know what Liansatrickth.info is?
Liansatrickth.info is not a website you can visit. Instead, it is an ad server that was built to deliver ads. The ad pages introduced via this server can promote all kinds of offers and promotions, but first, it asks visitors to enable notifications. According to our researchers, the pop-up displaying the request should present this message: "Click 'Allow' to close this window. This window can be closed by clicking 'Allow'. If you want to continue actions on this site, just click on the detailed information." So, do you remember interacting with such a message? Perhaps a slightly different one was introduced to you? In any case, if you need to remove Liansatrickth.info notifications, we can help you with it. Continue reading, and you will find tips that will help you delete ads by this ad server for good.
We cannot know how you were introduced to Liansatrickth.info first, but we can guess that that happen when you were interacting with websites that might promote illegal streaming, file-sharing, gaming, or porn content. That is how people are often exposed to News-back.best, Aminedreg.info, Click-to-watch.live, Mop-news2.club, and various other ad servers that we have already reported on our site. In some cases, visitors should be able to close the ad server pages and move on. In other cases, they might feel forced to accept notifications just so that they could access the content they intended to access in the first place. If you think that you were exposed to Liansatrickth.info via a completely harmless site, it might be time to scan the system to check if you need to delete adware (ad-supported software).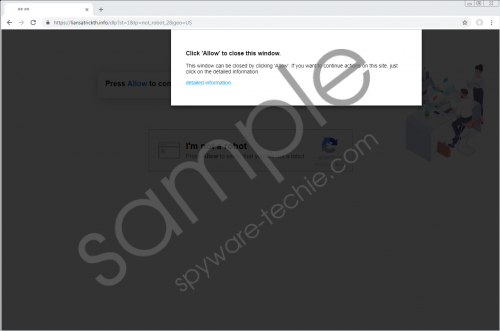 Liansatrickth.info screenshot
Scroll down for full removal instructions
Unless you understand the notifications feature, and you remember facing the Liansatrickth.info pop-up, you might be confused as to where all of the ads are coming from. They should show up in boxes that pop up on your screen as you browse the web. You might face these boxes even when you browse Liansatrickth.info-unrelated websites. Closing the annoying ads is a temporary fix, but they could introduce you to something that you cannot ignore, and that might make you click the ads. The ad server could employ shocking headlines, scandalous images, security warnings, and similar tricks to make you perform clicks. Once you do that, you could be exposed to scams and malware, which is why we do not advise that you interact with any of the notifications. Of course, ignoring them is not a solution either. Instead, you need to delete notifications.
Our team of experts has created a guide that should help you delete Liansatrickth.info notifications from Microsoft Edge, Mozilla Firefox, and Google Chrome browsers. You are most likely to have enabled them on these browsers, but should you need guides for different browsers, remember that we can provide them to you. If you are choosing the manual removal route, do not forget to clear browsing data and also scan your system afterward to check if you are safe. If you worry about your virtual security, we advise installing anti-malware software that can remove Liansatrickth.info notifications and also secure your entire system automatically. Of course, you cannot rely on technology alone. You also need to use logic, and always remember that unreliable websites can lead to trouble.
Remove Liansatrickth.info notifications
Microsoft Edge
Open the browser and then open the Edge menu by tapping Alt+F keys.
Click History and then click Clear browsing data.
Select a time range in which the notifications were enabled.
Mark the boxes you wish and then click Clear now.
In the menu on the left, click Site permissions and then Notifications.
Find the ad server, click the More actions icon on the right, and choose Remove.
Mozilla Firefox
Open the browser and then open the Tools menu by tapping Alt+T keys.
Click Options and the click Privacy & Security in the menu on the left.
Click the Clear History button under History.
Select a time range in which the notifications were enabled.
Mark the boxes you wish and then click OK.
Click Settings next to Notifications under Permissions.
Find the ad server, click it once, and then click Remove Website.
Google Chrome
Open the browser and then open the Chrome menu by tapping Alt+F keys.
Click Settings and then click Site settings under Privacy and security.
Click Notifications and find the ad server.
Click the More actions icon on the right and choose Remove.
Tap Alt+F keys again, click More tools, and then click Clear browsing data.
Select a time range in which the notifications were enabled.
Mark the boxes you wish and then click Clear data.
In non-techie terms:
To put it simply, you do not want to face Liansatrickth.info, and you certainly do not want to face the advertisements that are presented by this ad server. Unfortunately, if you have enabled notifications, ads might be showing up whether you like it or now, and the only thing you can do to stop them is to remove notifications. That should not be hard for you to do if you can follow the instructions below. We also strongly recommend clearing browsing data to get rid of potentially intrusive data-tracking cookies, which could be used to gather personal information and help create the most attractive ads. Have you interacted with them already? If you have, your virtual security could have been jeopardized already. In the future, be mindful about what sites you visit and what notifications you allow. Also, do not hesitate to install reliable security software to help you keep your system safe in the future.