Do you know what Kuaizip is?
After analyzing Kuaizip in our internal lab, our research team has come to a conclusion that it is a PUP, which is short for "potentially unwanted program." This program might offer seemingly beneficial services, but they are not worth the security issues that you might encounter when interacting with it. If you cannot wait to delete Kuaizip from your operating system, scroll down below to find the instructions that you need to follow. Of course, if you are confused as to why this seemingly great program is considered unreliable, or if you want to learn more about it, we suggest you read this report first. Please take note of any questions that come up, and post them below to start a discussion. We will try to assist you with any questions or problems as soon as possible.
Have you downloaded Kuaizip from kuaizip.com? According to our research, this website might be blocked if you access it via Firefox. Kpzip.com is a website that is identical to the first one, and it is blocked via Chrome. The browser informs that this website contains malware and that attackers using this site might attempt to download malware or steal personal information. Obviously, this should stop you from accessing this website or downloading the suspicious file archiver. The problem is that the official download page is not the only source of this potentially unwanted program. Unfortunately, malicious installers could be used for the propagation of this PUP, and they could introduce highly unpredictable and possibly malicious threats to you. In fact, even the official installer might introduce you to additional offers, and you must research every single program offered to you; otherwise, you might end up dealing with the removal of many unwanted programs.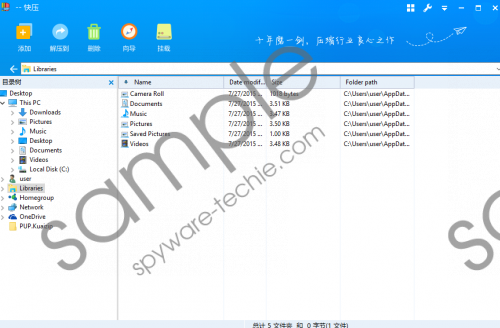 Kuaizip screenshot
Scroll down for full removal instructions
If Kuaizip was installed without your permission – and that is possible – you should delete it without any delay. Only malicious threats slither into operating systems illegally, and so you should not trust uninvited programs even if they seem harmless. This PUP can also communicate with remote servers using silent connection to the web. Although many legitimate programs use Internet connection, for example, to download necessary updates, you do not want potentially malicious software connecting without your knowledge because it could be used to transfer data and possibly download unwanted files. The worst part about Kuaizip is that it does not provide much useful information about itself, and so it is very mysterious and unpredictable. Surely, you do not want unpredictable software capable of communicating with unknown servers and introducing you to unfamiliar programs running on your PC, and this is why we have created this removal guide.
If you decide to remove Kuaizip from your operating system, you need to figure out if you want to proceed manually or if you want to employ an automated anti-malware tool. We suggest the latter option, especially if other threats are active. Although it is possible to delete the PUP manually, the operation is quite complicated. First, you need to uninstall the app from your PC. Then, you need to eliminate the leftovers, and there are quite a few of them. If you do not have much experience erasing or modifying registry data, you might be in for a challenge. Make sure you follow all steps as shown because it is very easy to make mistakes when working in the Registry Editor, and you do not want to compromise your system just because you could not spare a few bucks for an anti-malware tool that can remove malware and protect you from it in the future.
Delete Kuaizip from Windows
Windows 10/Windows 8/Windows 7/Windows Vista
Tap Win+R keys to launch the RUN dialog box.
Enter control panel into the box to launch the Control Panel menu.
Click Uninstall a program to find available uninstallers.
Right-click the program you want to get rid of and choose Uninstall.
Erase the leftovers using the guide below.
Windows XP
Move to the left of the Taskbar and click the Start menu icon.
Open the Control Panel menu and double-click Add or Remove Programs.
Move to the Change or Remove Programs menu.
Remove the undesirable program.
Erase the leftovers using the guide below.
Leftovers
Tap Win+E to access the Explorer window.
Enter %PROGRAMFILES(x86)% or %PROGRAMFILES% into the address bar.
Delete the KuaiZip and ¿ìѹ folders.
Enter %APPDATA% into the address bar.
Delete the Kuaizip folder.
Tap Win+R to access RUN.
Enter regedit.exe into the dialog box to access Registry Editor.
Navigate to HKEY_LOCAL_MACHINE\SOFTWARE\Classes\.
Right-click the key called .ape and select Modify.
Erase the data in the value data field and click OK.
Repeat steps 9-10 to modify the data of these keys: .bin, .ccd, .cue, .isz, .mdf, .nrg, .vcd, and .wv.
Navigate to HKEY_LOCAL_MACHINE\SYSTEM\CurrentControlSet\Services\.
Right-click and Delete the key called KuaizipUpdateChecker and KuaiZipDrive.
Navigate to HKEY_LOCAL_MACHINE\SYSTEM\ControlSet001\Services\.
Repeat step 13.
Navigate to HKEY_CURRENT_USER\SOFTWARE\.
Right-click and Delete the key called KuaiZipSFX.
N.B. Scan your PC immediately after you complete these steps.
In non-techie terms:
Whether you have downloaded it yourself or it has entered your PC illegally, Kuaizip is a potentially unwanted program that might open up security backdoors. This PUP communicates with remote servers for an unknown reason, and its services are quite suspicious also. Considering that this program does archive files like it is supposed to, it is very strange that it can install itself without user's permission and bundle other strange programs, which, of course, taints its reputation. As you can see by looking at the instructions above, the manual removal of this potentially unwanted program is not straightforward, and you need to go through several stages of removal to succeed. On top of that, you might have to attend to other threats once you are done getting rid of this PUP. Therefore, you should consider using anti-malware software capable of erasing malware automatically.