Do you know what KraKra Games is?
If you are browsing https://krakragames.com, a website containing thousands of flash games, it is very likely that you will be offered to install KraKra Games at some point. This piece of software is a browser extension that promises to give users access to thousands of online games they could play for free. While the extension seems to be extremely beneficial at first glance, we do not think that it is worth installing it on the system because it has been categorized as an adware program. Without a doubt, our team of experienced researchers has decided to put KraKra Games under this category not without reason, which suggests that its drawbacks might outweigh its benefits. You will see this for yourself if you install it on your computer. Believe us, it is quite an annoying piece of software even though it might really work in a beneficial way, i.e. enable users to play games for free. If you have agreed with the installation of KraKra Games by mistake, or you have no idea how it has entered your computer, you should delete it today. It should not be too hard to erase it because it is installed on Mozilla Firefox and Google Chrome browsers as a browser extension. In other words, it is not serious malware that drops a bunch of files on affected computers, create new entries in the system registry, or block the main system utilities. If you do not know much about the removal of browser extensions, you should read this report before you go to delete KraKra Games manually.
If you have not installed KraKra Games yet, you should not do that by any means because this piece of software is definitely not the most trustworthy browser extension even though it is presented as one. Users are told that it will enable them to play online games for free, and this, in fact, might be true; however, it is very likely that this browser extension will perform some other activities too, specialists say. For example, it might start displaying commercial advertisements to you. Most likely, ads will not start appearing on your screen the second you install KraKra Games on your computer because adware programs usually collect some information about the user and his/her computer first before displaying any commercial advertisements, but it is only a question of time when it starts generating them if you keep it installed on the system. What is more, KraKra Games might be used to collect some information about users, according to researchers. Ad-supported programs are far from harmful malware, so they do not steal any personal information from affected users' computers. They mainly record details about users' browsing habits. We suspect that KraKra Games is no exception. Even though this does not sound dangerous at all, we would not let an adware program collect information from the system automatically if we were you because it is unclear what it will do with it. Theoretically, the collected information might even be shared with unreliable companies or people.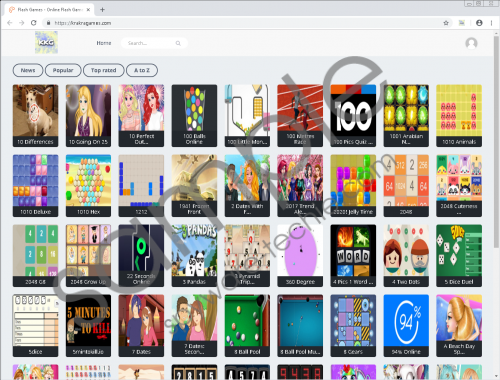 KraKra Games screenshot
Scroll down for full removal instructions
The majority of users install KraKra Games on their computers after they are presented with an offer to add the extension and "start receiving these great games now." As mentioned, in most cases, they see it on the https://krakragames.com website. Also, this piece of software might be promoted via pop-ups, specialists say. In other words, you might notice a pop-up promoting this extension while surfing the Internet. Suspicious applications are often promoted on torrent and similar websites. It might be quite a challenge to recognize untrustworthy software, which is why we highly recommend that you keep a reliable antimalware tool active on your system. As long as you keep it active on the system, no threats or suspicious applications could ever slither onto your computer illegally.
You simply need to remove the browser extension representing KraKra Games to make all those irritating commercial advertisements disappear from your screen. If you have never erased a browser add-on before, it would be best that you use our instructions – it is extremely important to delete the undesirable program fully so that it would not have the slightest chance to revive.
How to remove KraKra Games
Mozilla Firefox
Open Mozilla Firefox and tap Ctrl+Shift+A.
Select the KraKra Games extension.
Click Remove.
Google Chrome
Open Google Chrome.
Tap Alt+F and open More tools.
Click Extensions.
Locate the KraKra Games extension and then select Remove next to it.
In non-techie terms:
The KraKra Games browser extension is presented as a beneficial piece of software that enables users to play online games for free; however, it is far from being fully reliable, so it is not very clever to install it on the system, in our opinion. The extension might not only start showing ads on your screen, but it might also actively collect information from your computer. This may not sound dangerous, but, believe us, adware programs might cause problems to computer users.