Do you know what Koyote Toolbar is?
Koyote Toolbar is a browser extension that is compatible with Chrome, Firefox, and Internet Explorer. This application has few particular qualities that might be considered slightly annoying by computer users. However, it is important to note that there is nothing malicious about it, and you can easily remove Koyote Toolbar via Control Panel. If you require guidance in the freeware removal process, please check out the instructions we have prepared at the bottom of this article. Also, if you think that there might be more programs you do not need on your computer, do yourself a favor and run a full system scan with a licensed antispyware tool.
The reason we do not have anything against this application is that it does not come bundled, and it has a direct distribution source. This means that Koyote Toolbar does not enter your system surreptitiously. If you happen to have this extension on-board, it means that you have installed it willingly. Not to mention that this program comes with a comprehensive installation wizard that would be extremely hard to miss. Of course, it does not mean that you should go through the installation process as fast as possible. It is important that you read all the steps carefully to understand what the applications of having this application on your PC are.
For example, right before the installation takes place; you are guided through the Koyote Soft Toolbar v9.7 InstallShield Wizard, which provides you with the Terms of Use and other important documents. Also, right below the Terms of Use, we can see a line in small letters that states "Set Yahoo! as my default search engine in compatible browsers and notify me of changes." As you can see, you can choose whether you want to change your search engine settings or not. What's more, the box next to this line is not even ticked by default. Thus, if your default search engine changes after you install this toolbar, it means you have agreed to modify the browser settings yourself.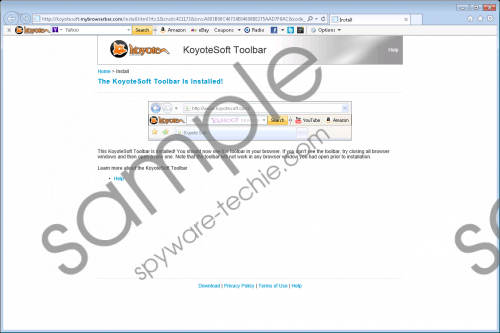 Koyote Toolbar screenshot
Scroll down for full removal instructions
However, there is something odd about the application, and we should address it. Judging from its name, Koyote Toolbar should be associated with Koyote Software that offers free audio and video software products via koyotesoft.com. Yet, during our research, we have found that this extension has nothing to do with the said company, aside from the fact that it keeps a link to their website at koyotesoft.mybrowserbar.com/download/html. This is where users would download this toolbar directly, and they would probably think that the two products are related.
The truth is that Koyote Toolbar is created by Spigot, a company that thrives on monetizing applications. This means that the extension could be used to generate financial profit via third party advertising, and this would result in you getting exposed to the unfamiliar commercial content. It would not be too surprising because the mybrowserbar.com website has recently experienced a surge in popularity, and it has been known for distributing other freeware applications and browser toolbars. For the most part, these extensions were related to the so-called Movie Toolbars, and computer security experts recommended deleting them as well.
If you decide to keep this toolbar on your computer, there are some things you have to consider. That would be the security-related issues that might arise if Koyote Toolbar ends up being exploited by malevolent third parties. For example, this extension might promote commercial content it does not review. Consequently, as long as the third party knows how to embed their advertisements into the space provided by this extension, they could make use of that to slam their content right in your face. This also would not work with tracking cookies that are obviously employed here.
The bottom's line is that although Koyote Toolbar is not a malicious infection, you have to keep in mind that such programs quite often could unwittingly expose you to potential security threats. It would be for the best to uninstall this application and then restore the default search engine on the Google Chrome browser (as this is the only browser that gets affected to that point).
For any further questions, please feel free to leave us a comment. Also, remember that your computer's security is in your hands, and you should do everything in your power to avoid severe threats.
How to Remove Koyote Toolbar
Windows 10 & Windows 8.1
Press Win+R and the Run command prompt will open.
Type Control Panel into the Open box and click OK.
Open Uninstall a program and remove Koyote Toolbar.
Windows Vista & Windows 7
Open the Start menu and click Control Panel.
Select Uninstall a program and remove Koyote Toolbar.
Windows XP
Click the Start button and navigate to Control Panel.
Go to Add or remove programs and uninstall this toolbar.
Change Google Chrome Settings
Open the Chrome browser.
Press Alt+F and click Settings.
Scroll down to Search.
Click Manage search engines.
Set a new default search engine and remove the customized Yahoo! Search.
Click Done.
In non-techie terms:
Koyote Toolbar is an ordinary application that has a stand-alone installer. It is not a direct computer security threat, although it is important that you consider all the potential consequences of keeping it in your system. If you think that it is for the best to remove this extension from your computer, then you can do it without any glitches via Control Panel. This type of removal leaves no traces of the extension in your computer whatsoever.