Do you know what Kijojo.com is?
Kijojo.com might look like a normal search engine at first sight, but, unfortunately, it is known to be a typical browser hijacker. The main thing we can say about hijackers is that they make various changes without permission. Kijojo.com will also not ask whether it can replace your homepage, which means that you will notice if this infection enters the system very quickly. Specialists say that this browser hijacker is prevalent among users whose place of residence is Turkey or who use a Turkish IP address. If you do not live there and do not have such an IP address, but still see the presence of Kijojo.com, there is no doubt that you have infected your system with the same browser hijacker. You should not keep this hijacker installed on the system because you might really cause harm to your PC. Luckily, our specialists know what you should do in order to eliminate this browser hijacker.
You might wonder why you cannot keep Kijojo.com as your homepage. The main reason why it is so is, of course, the fact that it can provide you with ads and sponsored links. These ads and links might take you to untrustworthy websites. Remember that nobody knows what you can find on such websites, which means that you might encounter malware. What is more, you will find easy-access links placed on the startup page of Kijojo.com. It seems that they can take you to Facebook, Twitter, Gmail, and other useful websites; however, there is still a possibility that you will end up on an untrustworthy website after clicking on any of them. Yes, Kijojo.com is not completely trustworthy and we believe that it will cause harm to your PC sooner or later. Therefore, you should get rid of it as soon as possible and set another reliable homepage, e.g. google.com.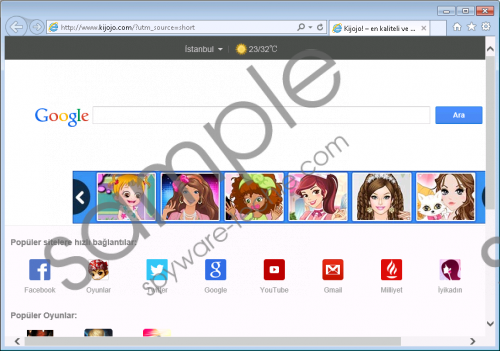 Kijojo.com screenshot
Scroll down for full removal instructions
Browser hijackers usually do not have any official websites; they simply travel bundled with other programs. If you have recently downloaded some kind of program, it is very likely that this hijacker has entered your system together with it. Browser hijackers usually do not inform users about the changes, but you should still pay more attention to the setup wizard while installing new programs. Our security specialists also say that it is a must to install a trustworthy antimalware scanner on the system. As long as you keep it enabled, malware will not be able to slither onto your computer.
In order to set another homepage, you have to get rid of Kijojo.com browser hijacker. Unfortunately, it seems that it is a rather difficult task because this hijacker modifies the shortcuts of all the main browsers. As can be seen, it does not want to be removed from your system. Luckily, there is a way to fix these shortcuts and get rid of Kijojo.com. Unfortunately, it does not seem that you will be able to do that yourself because it will keep reviving. In order to remove it once and for all, you have to scan your system with the SpyHunter antimalware scanner. This security tool can be downloaded from this website.
In non-techie terms:
There is basically no doubt that Kijojo.com browser hijacker has slithered onto your computer together with other undesirable programs. Luckily, you do not need to remove them yourself because SpyHunter will erase them in the blink of an eye if you scan your system with it.