Do you know what KidStart Savings Prompt is?
If you are an avid online shopper looking for an application that could be helpful, make sure to bypass a program called KidStart Savings Prompt. During the investigation, malware experts at our internal labs have come across quite a few dubious features, which were the main reasons this questionable piece of software was classified as an adware application. Make sure to ignore statements claiming that this ad-supported program could help you with your online shopping by presenting you with discount deals, promotional codes, and coupons, which consequently should help you save time and money. In reality, this intrusive tool will only ruin your overall online experience on various levels. Do not take any chances with this adware and conduct its complete removal right now. Below we provide a removal guide that is easy to use and will help you delete KidStart Savings Prompt in the most efficient way.
KidStart Savings Prompt works in a rather similar way that other adware programs do. It will flood your web browser with a vast amount of invasive third-party webs content, as soon as it successfully enters your operating system. The intrusive adware program can do that because it starts a system service and installs a browser extension. All of this is done silently; thus, you will most likely have no idea when this ad-supported program infiltrated your operating system. After the questionable tool is up and fully running, it will contact numerous adware servers, which host and provide all those invasive third-party commercial ads and pop-ups. What is even more alarming is the fact that adware servers are infamous for being associated with malware distribution; therefore, it is not shocking that at times you might be presented with a potentially malicious ad or pop-ups that host a redirect link. This means that just by clicking on it you risk exposing your operating system. Unfortunately, such exposure often leads to a system infection. It should be more than obvious that KidStart Savings Prompt could turn out to be a major virtual threat; thus, its complete removal is imperative to your overall system security.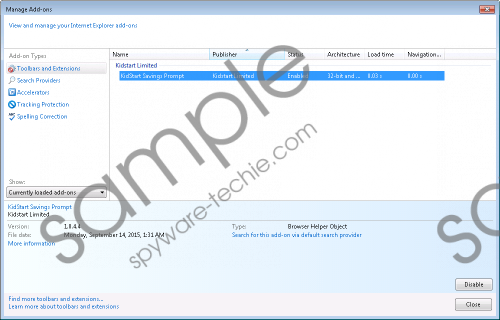 KidStart Savings Prompt screenshot
Scroll down for full removal instructions
Since you cannot download KidStart Savings Prompt from its official website, it is rather normal that it is spread in some other suspicious way. Upon further investigation, our malware researchers have found out this adware program is usually distributed via software bundles. In the majority of cases, such bundles are obtained from dubious third-party download sites. Thus, by downloading your software directly from an official vendor's website you will significantly reduce the risk of infecting your PC with KidStart Savings Prompt or any other questionable program. Additionally, you should always have a professional antimalware tool active on your operating system since it can warn you about any virtual threats in advanced.
The complete removal of KidStart Savings Prompt is the only way that you can stop all the invasive features from being active. Make sure to delete this adware program as soon as it is located on your operating system. This is imperative since at times it could serve as a security breach for other questionable programs. Thus, it is essential to scan your operating system with a professional malware detection and removal tool after the manual removal is executed just to be sure that every single bit of KidStart Savings Prompt was removed entirely.
How to remove KidStart Savings Prompt from your operating system
Windows XP
Tap the Windows key on your keyboard.
Select Control Panel and click Add or Remove Programs.
Uninstall the unwanted application.
Windows Vista and Windows 7
Click the Windows button.

Select Control Panel.
Click the Uninstall a program option.
Right-click KidStart Savings Prompt.
Select the Uninstall option.
Windows 8
Move the mouse pointer to the lower-left corner of the screen.
Right-click and then select Control Panel.
Click Uninstall a program.
Select KidStart Savings Prompt and click Uninstall.
Windows 10
Click the Search icon.
Type Control Panel and tap Enter.
Select Uninistall a program.
Locate and select KidStart Savings Prompt.
Click the Uninstall button.
In non-techie terms:
We are well aware the some users, especially non-advanced ones, might find manual removal a bit too tricky at times. If you happen to be one of those users, you should follow the alternative instructions that we provide below. They will help you delete this ad-supported program in an automatic way.