Do you know what Key Lime Lizard is?
Key Lime Lizard is a program that collects data on your web browsing habits and then displays commercial advertisements whenever you access online stores. It is an adware application, even though it promises to improve your online search experience. Quite often such adware programs promise to do something useful, but in reality they just display annoying pop-up ads in order to make easy money. If you are a computer security-minded user, you will remove Key Lime Lizard from your PC as soon as possible.
It takes just one glance at the official page of Key Lime Lizard to tell what kind of program it is. Keylimelizard.net may have a sleek design, but the truth is that all programs from the SuperWeb adware family share the same homepage design. Hence, we can tell that Key Lime Lizard is practically identical to Box Rock, Lampy Lighty, Platamoose, and many other applications from the same group. Needless to say, the official website is a hoax – it does not contain a direct download link. The website is only there to make a fleeting impression that Key Lime Lizard is a reliable application. The reality is quite different.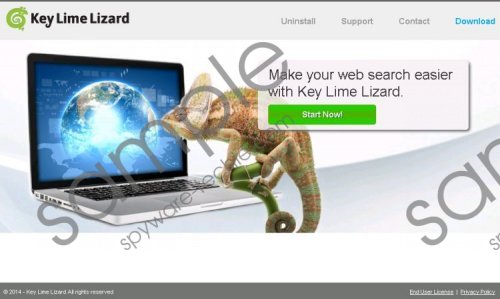 Key Lime Lizard screenshot
Scroll down for full removal instructions
Since it is impossible to download the application at keylimelizard.net, Key Lime Lizard employs other distribution methods, and it does it quite successfully. All adware applications from the SuperWeb group are distributed bundled with freeware programs. This means that users download and install Key Lime Lizard onto their computers themselves, even if they are not aware of that. It happens when you download something from a third-party file sharing website. Please refrain from downloading programs from unfamiliar websites. If you must have some application, refer to its official homepage and do not rely on third-party webpages. The installer on such websites often contains more than just one program.
When Key Lime Lizard gets installed on your computer, it adds extensions to Google Chrome, Internet Explorer, and Mozilla Firefox web browsers. Supposedly, these extensions should help Key Lime Lizard improve your web browsing experience. However, the truth is that these extensions may impede your web browsing experience and eventually expose you to dangerous websites. Key Lime Lizard may be exploited by malevolent third parties to deliver their corrupted content.
Hence, you need to do everything in your power to protect your PC from harm. The first step in this would be removing Key Lime Lizard for good. Once you have this program uninstalled, please scan the PC with the SpyHunter free scanner, because there is a good chance you have more unwanted applications on board. Do everything you can to ensure your system's safety and stability.
Manual Key Lime Lizard Removal
Windows 8
Drag the mouse cursor to the bottom right corner of your desktop.
When the Charm bar appears, click Settings and go to Control panel.
Open Uninstall a program and remove Key Lime Lizard.
Windows Vista & Windows 7
Click the Start menu button and go to Control panel.
Go to Uninstall a program and remove Key Lime Lizard.
Windows XP
Open the Start menu and navigate to Control panel.
Select Add or remove programs and uninstall Key Lime Lizard.
In non-techie terms:
Key Lime Lizard is a program that you should be wary of. It is not a useful application and removing it would be the best thing to do. If you need an alternative software removal method, you can refer to the additional instructions below this article.