Do you know what Kavapuller Ads are?
Kavapuller Ads can show up on your computer screen while you are browsing the web when your computer has been attacked by an adware application. These ads may risk your system's security even if indirectly. Most people may consider these third-party advertisements, best offers, and coupons distracting but innocent things. That is why they usually do not even act against them, just simply leave them on their computers. But you must know that this may be a dangerous "game" you play if you keep Kavapuller Ads on-board. For instance, you might be introduced to malicious websites. The Internet has its own "dark places" where inexperienced users should never visit. It is very easy to get tricked by criminals into something you would normally say "no" to if you know better. If you remove Kavapuller Ads from your system, you give your computer a chance to stay protected. But even that may not be enough to restore your system's health. Let us explain why.
These ads are generated by a browser extension called Kavapuller. This adware comes from the notorious Multiplug family. Just like all the other members, this adware is also based on the JustPlugIt cross-browser platform. Therefore, it can affect all major browsers, including Mozilla Firefox, Google Chrome, and Internet Explorer as well. No matter which browser you launch, Kavapuller Ads will haunt you until the moment you decide to take action and delete this extension. Most probably you cannot even remember installing this browser extension since it usually comes in third-party installers. This adware has no promotional website, so you cannot download a standalone version directly. But these installers have a tendency to include malicious programs along with an authentic free program. So, if you install such a package, you might get your computer infected with a number of adware programs and browser hijackers, to mention the two most common travelers of such installers. That could be rather detrimental to your system's health. Therefore, in order to protect your PC from more damage, you should not only delete Kavapuller Ads, but you should also take care of every other threat related to it.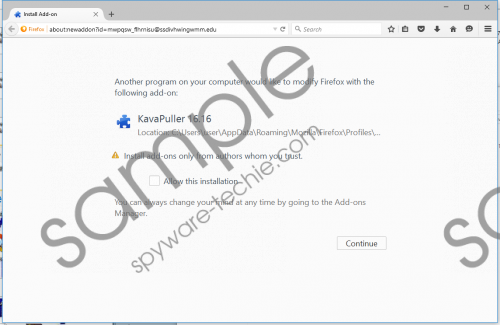 Kavapuller Ads screenshot
Scroll down for full removal instructions
Kavapuller Ads may be harmful for your operating system if you click on them. These third-party ads should not be trusted as they might as well be sent by cyber criminals in order to lure you to their websites. Since this adware can collect data about your online activities, third parties may know exactly what kind of products you are looking for and which are your preferred shopping sites, etc. This way they can target you with customized ads to make sure that they catch your attention. But once you click on such an ad, you might start a chain of events that can lead to more infections and increased vulnerability. We hope that you understand now the potential risk of letting Kavapuller Ads show up on your screen.
Our researchers have found that there may be two types of this adware out there. One you can easily remove by uninstalling it via Control Panel; however, in the case of the other type, you may have to remove the extensions from your browsers. Just in case you are not familiar with these steps, we have included both removal instructions below. Please remember that you can protect your computer from similar attacks if you are more careful about the choice of websites you visit and where you click.
Kavapuller Ads Removal from Windows
Windows XP
Open the Start menu and go to Control Panel.
Click Add or Remove Programs.
Select the application and click Remove.
Windows Vista/Windows 7
Tap Win+R and type in Control Panel. Press OK.
Open Uninstall a program.
Select the application and click Uninstall.
Windows 8/Windows 8.1/Windows 10
Tap Win+X and access Programs and Features.
Click Uninstall a program.
Select the application and click Uninstall.
Kavapuller Ads Removal from Browsers
Mozilla Firefox
Tap Alt+T and go to Add-ons.
Choose Extensions on the left.
Select the extension and click Remove.
Internet Explorer
Press Alt+T and navigate to Manage add-ons.
Choose Toolbars and Extensions.
Remove the extension.
Google Chrome
Press Alt+F and choose More Tools.
Select Extensions.
Select the extension and click on the trash icon on the right.
Click Remove.
In non-techie terms:
Kavapuller Ads are displayed by a useless but potentially harmful ad-supported program. This adware may pose a threat to your virtual security because you cannot trust the third-party ads it shows on your screen. These ads are not only very annoying but they may also take you to unsafe websites if you click on them. In order to avoid such unlucky scenarios, we suggest that you remove Kavapuller Ads from your computer. If you want an effective solution, we recommend that you use a reliable antimalware program to automatically tackle all security issues and safeguard your PC.