Do you know what Katyusha Ransomware is?
Katyusha Ransomware is a file-encrypting infection that has been spreading with the help of Doublepulsar and Shadowbrokers (also known as EquationGroup) exploits. According to our malware research team, it could also be spread via spam emails. It is possible that other vulnerabilities and security backdoors could be used too. Ultimately, the infection can find its way into your Windows operating system in one way or another, and so it is your job to ensure that your system is secured at all times. If you cannot ensure this, all kinds of malicious threats might start invading. A file-encrypting ransomware, of course, is one of the worst threats that you might face. Once files are corrupted, there is no turning back, which is why it is so important to keep ransomware away. So, are you now dealing with encrypted files? Do you need to remove Katyusha Ransomware from your operating system? If that is the case, we suggest you keep reading.
After successful execution and encryption of personal files – the ".katyusha" extension is added to their names – the malicious Katyusha Ransomware creates several files. Two of them are called "Katyusha.dll" and "ktsi.exe," and both are created in the %WINDIR%\Temp\ folder. The other two appear to be unique, but their names are the same. These files are called "_how_to_decrypt_you_files.txt" and "_how_to_decrypt_you_files.html," and they are supposed to introduce the victims of the infection to the same ransom note. The files are created in the %PROGRAMDATA% directory, but it is possible that copies of these files could be dropped everywhere and anywhere. All files that belong to Katyusha Ransomware should be deleted, of course, but the HTML and TXT files are safe to open. They are simple text files, and you will not create more problems for yourself by opening them. In fact, you might not even need to try to open them yourself because they are set to auto-start with Windows.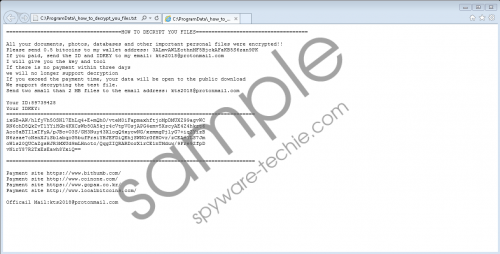 Katyusha Ransomware screenshot
Scroll down for full removal instructions
The ransom note by Katyusha Ransomware is very straightforward. Unlike some of the more recent threats (e.g., Yourhope@airmail.cc Ransomware or CtrlAlt Ransomware), this infection does not hide the exact sum of the ransom. It is 0.5 Bitcoin, and although that might look like a lot, at the time of research, that converted to over 1600 USD. Do you have that kind of money? Even if you do, we do not recommend transferring money to the criminals' Bitcoin wallet (3ALmvAWLEothnMF5BjckAFaKB5S6zan9PK) and then emailing them (at kts2018@protonmail.com) to confirm the payment. While we cannot guarantee this, it is most likely that you will not get the decryptor you need in return. So, if you do not want to lose your precious files along with a good pile of money, you need to be cautious. We suggest paying no attention to the demands and focusing on the removal of Katyusha Ransomware.
The instructions you see below might be helpful to those who are interested in deleting Katyusha Ransomware manually. Can you handle this task? We cannot give you a clear path to the launcher of the infection, and its name could be completely random. So, if you are unable to find it yourself, it is unlikely that you can remove Katyusha Ransomware yourself. The good news is, you do not need to. You can install a legitimate anti-malware program that will take care of things automatically. Do you know what the best part is? It will offer full-time protection against ransomware and other kinds of malware too.
Remove Katyusha Ransomware
Delete the ransom note files created by the ransomware:

_how_to_decrypt_you_files.txt
_how_to_decrypt_you_files.html

Launch Windows Explorer by tapping keys Win+E.
Enter %WINDIR%\Temp\ into the field at the top.
Delete these malicious ransomware files:
Empty Recycle Bin.
Install a reliable malware scanner and run a full system scan.
Clear any leftovers that might have been found.
In non-techie terms:
The devious Katyusha Ransomware is all about demands. It encrypts files and then demands a ransom payment in return for a decryptor. Since decrypting files manually – or even using file decryptors – is not possible, you might decide that the "solution" proposed by cyber criminals is the only one you have. Well, since cyber criminals are unlikely to give you what you need, it is unlikely that you have options at all. This is why we suggest you waste no time and delete Katyusha Ransomware. While removing this threat manually is not impossible, we encourage all users to use anti-malware software. It will eliminate all existing infections automatically, and it will ensure full-time protection simultaneously. Do not ignore the lack of protection your operating system currently has, because your virtual security depends on it.