Do you know what K9-PCFixer is?
K9-PCFixer poses as a useful and enhanced PC cleaner, optimizer application; however, this program exhibits certain questionable traits that have put the "potentially unwanted program" label on it. There are several reputable and trustworthy applications out there that can do a proper job at cleaning up your registry errors or other discrepancies on your computer. Unfortunately, K9-PCFixer has not proved to be one of them. As a matter of fact, this software might cause some system security and privacy issues instead of getting rid of them. Knowing what you might be up against if you have this program on-board could save you from more serious problems. Our opinion is that you need to remove K9-PCFixer if you want to keep your system safe and healthy. Let us see why we say so.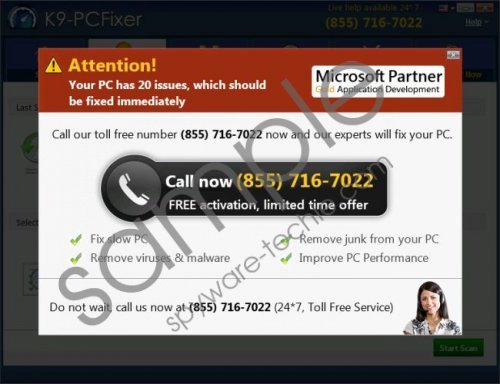 K9-PCFixer screenshot
Scroll down for full removal instructions
K9-PCFixer has an official website at k9pcfixer.com. The site looks totally legitimate and the design is also quite professional. You have the feeling that you are at the right place if you want to clean your system and enhance its performance with the help of this program. But this is only one of the distribution methods how this potentially unwanted program can spread over the net. The other, more questionable and potentially dangerous method is via freeware bundles. In fact, this app has been found in bundles that contain malware infections. So, if you install such a package, it is quite likely that you will have several more unwanted programs on your computer. That is why we advise you to delete K9-PCFixer and every other possibly related app too.
K9-PCFixer is not the "sliced bread" of the software industry. This program has been preceded by Super Optimizer and PCTuner, to mention only two other potentially unwanted programs that are similar. Of course, the list is much longer. This application offers registry optimization, increased computer stability, and improved efficiency. Most users would gladly say yes to all of these, of course. However, this application may display potentially unreal scan results in order to convince users to buy the product. You cannot actually fix any problems unless you register or pay €19.95. To be totally frank, you are offered 15 fixes for free out of the hundreds of "urgent" issues the report shows.
But this is not all. You can also call a toll free phone number for support. Although, you might easily be scammed out of your money or personal and banking details over the phone. Cyber criminals might exploit unsuspecting users this way, which usually does not end well. The application also may collect information about you and your hardware that can be shared with third parties. K9-PCFixer starts up automatically with Windows so it will always be there silently in the background.
Since this application seems to have more on the "disadvantages" side, you have most probably arrived at the conclusion that you are better off without K9-PCFixer. In that case, you will be glad to know that it is not at all difficult to uninstall it from your computer. You can do that simply via Control Panel. Please use our instructions below if you are not yet familiar with the necessary steps. However, do keep in mind that this may not be the only program that might put your system at potential risks. For the rest of the threats we recommend that you install a reliable antimalware program, which will automatically take care of all the remaining issues on your computer. If you care about your virtual safety, this is the best solution for you to protect your operating system, the data, and information you store on your hard drive.
K9-PCFixer Removal
Windows XP
Access the Start menu and go to Control Panel.
Click Add or Remove Programs.
Select the undesirable program and click Remove.
Windows 7 & Windows Vista
Click the Windows button in the bottom-left corner.
Select Control Panel.
Click Uninstall a program.
Select the unwanted program and click Uninstall.
Windows 8 & Windows 8.1
Tap Win+X and navigate to Control Panel.
Click Uninstall a program.
Select the unwanted program and click Uninstall.
In non-techie terms:
K9-PCFixer has been labeled as a potentially unwanted program due to some traits it displays. Instead of fixing errors on your computer, you and your system might be exposed to potential security risks. Since this application might also come on-board with malware infections, you might have multiple problems already hiding on your PC. This software may display questionable behaviors and that is why we recommend removing it from your computer. Although you can manually uninstall this program, you may still have other security issues. The best solution is to use a trustworthy, automated antimalware tool that will deal with all these problems and restore your system's security.