Do you know what JustCloud is?
JustCloud is a cloud-based storage service that allows you to store your files online and access them from any device. You might want to remove this program due to a couple of simple reasons. The first one is that its usage is not unlimited. There is a limit on file size and the overall storage size you get. And second, it is a paid service that other companies offer for free. This program falls into the category of potentially unwanted programs, because it offers functions that you can get free of charge and, frankly, its competitors offer much better services. If you are using JustCloud then you should reconsider your option and opt for another cloud-based storage service.
JustCloud is promoted ad primarily distributed on its own dedicated download website called Justcloud.com. If you want to download this program you have to register first. However, a legitimate email address in not not needed, since the program requires no email confirmation. It might come as a surprise but JustCloud is a clone of another PUP called MyPCBackup, which was released a few years back. Apart from being distributed via its website, this program is also bundled with other applications. These bundles are apt to appear on unreliable freeware sharing websites.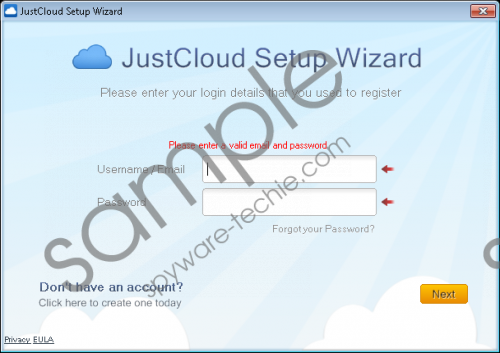 JustCloud screenshot
Scroll down for full removal instructions
JustCloud is not an entirely useless program and it packs a few good features that we want to discuss. There is a Backup function, but unfortunately it refused to work when our researchers tested this program. The Drag & Drop function works as intended. You simply drag a file to this program's window and it automatically uploads that file to the cloud. You can view the uploaded files by clicking the My Files button, which will open a browser window. It also has a Sync Folder function, where you can create a cloud Folder and store any information as well. The maximum file size you can upload is limited to one gigabyte which can be increased after purchasing the Premium or Ultimate versions.
However, we want to remind you that there are free alternatives to JustCloud. Even though this program works rather well, you can go for OneDrive from Microsoft which supports Windows 7 and 8. You can also go for Google Drive, which offers a lot of storage space. We are not going to compare which one of these alternatives is better, but we want to stress the fact that there are much better alternatives that do not cost anything. And if you are a Windows 8.1 user then you should know that OneDrive is already included in the OS. So why waste your money on a function that you can get for free. Therefore, you can simply remove JustCloud and try something else.
All in all, JustCloud is truly a potentially unwanted program, because it offers a service that you can get free of charge from its competitors. It seems that its developers prey on inexperienced users with deep pockets. So, do not get tricked by clever marketing tactics and always perform additional research when downloading an unfamiliar paid program. If you want to keep JustCloud, then by all means keep it, but we think you should not waste your time with it and remove it.
Uninstall JustCloud
Windows XP
Click Start and go to Control Panel.
Select Add or Remove Programs.
Find JustCloud in the program list and click Remove.
Windows 7/Vista
Simultaneously press Windows Key+R and type Control Panel, and then click OK.
Click Uninstall a program and find the undesirable program.
Right-click on it and click Uninstall.
Windows 10/8.1/8
Simultaneously press Windows Key+I.
Go to Control Panel.
Find JustCloud and Uninstall it.
In non-techie terms:
JustCloud is regarded as a potentially unwanted program, because it charges its users for services that other companies offer for free. It is a cloud storage service, but it has a very limited storage space that can only be increased by purchasing one of the two other versions. We are of the opinion that there is no need to keep JustCloud, since its competitors can do a much better job.