Do you know what Jungle Net is?
Jungle Net has been classified as adware by our malware specialists. This application is in no way a beneficial or useful one. If this adware has sneaked onto your computer, it is possible that you have other programs, too, spreading and doing their dirty work in the background, without your knowledge or consent. On the surface, of course, you can only see lots of pop-ups and other types of commercials shown to you, but underneath might hide a potential that could break down the walls of your system security. Those who do not take such threats seriously might easily end up reinstalling their operating system after having to format their hard drives. Although preventing such infections is essential, if you have already been infected, you also need to learn how you can remove Jungle Net and other threats from your system.
Jungle Net has a website, mightyjunglenet.com, which is not very informative and we could not call it functioning, either, since the promoted application is not available for download. However, that does not stop this adware from spreading. It is mostly distributed in so-called shareware bundles. These are software packages that contain free software and other tools and applications. The problem is that there are third parties who may pack malware infections in bundles, too. Users may download these from file-sharing websites by clicking on corrupted download buttons or links. But, in most cases, it is the users who actually initiate the download and fail to opt out while they have an opportunity during the installation process. If you have Jungle Net on your system, you can assume that a bunch of other infections have also entered your PC with it. Therefore, we advise you to delete Jungle Net and all these other infections, too, if you want to be safe from exposure to unreliable web content or more serious threats.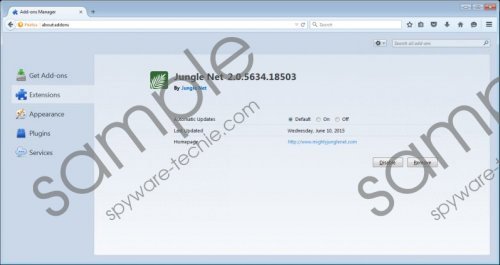 Jungle Net screenshot
Scroll down for full removal instructions
Jungle Net is built on the so-called Injekt engine, like so many other adware applications, including Roaming Rate, Dragon Branch, Record Page, and Glass Bottle, to name a few. All of these apps have one thing in common: They might expose you to questionable websites. Apart from all kinds of ads that you would not even care about, this adware may also display targeted commercials to you. It is much easier to click on such ads and, obviously, that is exactly what the developers aim for. However, you need to be aware that there are certain security-related risks involved if you click on them. In order to keep your system clean of threats that can harm or damage it, you should delete Jungle Net without any further hesitation.
Most probably, you have reached the stage when you want to get rid of Jungle Net right away. So, you will definitely be happy about the fact that it is quite easy to remove this adware from your computer. You simply need to find it in the installed programs list in Control Panel and uninstall it. In order to assist you with these steps, we have included a guide below. However, you should remember that you may have other infections to clean, too. For those, we would recommend using a trustworthy malware removal tool, such as SpyHunter. With this software you can automatically scan your computer, detect all the existing infections and eliminate them. Keeping it active in the background all the time can give your system the needed protection against any further attack.
Remove Jungle Net from Windows
Windows XP
Click the Start button and select Control Panel.
Select Add or Remove Programs.
Click on the application and click Remove.
Windows 7 & Windows Vista
Click on the Windows button in the bottom-left corner and go to Control Panel.
Select Uninstall a program.
Click on the application and click Uninstall.
Windows 8 & Windows 8.1
Tap Win+R and type in control panel. Click OK.
Select Uninstall a program.
Right-click on the application and select Uninstall.
In non-techie terms:
Jungle Net is an ad-supported program that displays distracting advertisements all over your screen. Some of these ads might be corrupted and redirect you to unreliable websites. This adware might put your system at risk by exposing you to cyber criminals. It is also most likely to come with other infections onto your computer. If you care about the integrity of your computer, we recommend installing a professional antimalware application to protect you from these malware attacks.