Do you know what Jordan Ransomware is?
Even though Jordan Ransomware has been put into the category of ransomware infections, it is not a very dangerous threat. In fact, it is very likely that it has been developed just for fun because it can be closed easily, it does not encrypt any files, and it does not even contain instructions explaining how to transfer a ransom. It only tells users that they have been caught watching adult videos and now they have to send money to the provided payment address. Since Jordan Ransomware contains a bunch of selfies, supposedly, belonging to a boy named Jordan, there is a possibility that this infection has been developed just to spread these pictures. Either way, this threat is not dangerous at all, so do not pay attention to the window with the message left for you and immediately go to delete this computer infection from your system. As has already been mentioned, it does not encrypt files or modifies them, and it does not make any changes on the infected PC like other much more serious infections do. Therefore, its removal should not be complicated at all. Of course, not all the users manage to find its malicious file easily, but there is a way to find and get rid of it in the blink of an eye. Continue reading to find more about this deletion method.
Even though Jordan Ransomware, basically, does not do anything bad, it shares one major similarity with these harmful threats making users' files unusable – it also always enters computers illegally. Once its malicious file is launched, a window with a message is displayed to users. It tells users that their files have been "locked with a military security," which, as our specialists have found, is not true at all. Also, it is said there that users have to send 10.000 SC (Scammer Coins) to the provided payment address. Finally, users are told not to kill the process of Jordan Ransomware if they do not want to experience DDoS attacks. Since such a currency does not exist and Jordan Ransomware does not do anything really harmful, this ransomware infection does not seem to be created to cause harm to users. Theoretically, its new harmful version might be released in the future, but it is not very likely that this will ever happen because such flimsy threats tend not to be updated. Of course, if you ever encounter the updated version of Jordan Ransomware and it encrypts your files or locks the screen and then asks to send a certain amount of money, ignore these demands and go to delete Jordan Ransomware. Paying money to cyber criminals is always a bad decision because they often do not send anything to users after receiving money even though they promise to do so. Also, money encourages them to continue creating computer infections.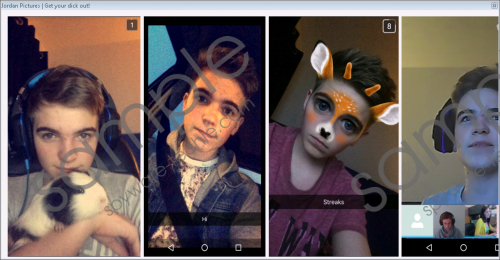 Jordan Ransomware screenshot
Scroll down for full removal instructions
Our team of experienced researchers does not have much information about the distribution of this malicious application yet; however, they are sure that this threat sneaks onto computers without permission in most cases. It might be hiding on third-party websites and pretending to be useful software. Also, it might be distributed as an attachment in spam emails. Believe us; ransomware infections are threats that might find a bunch of different ways to sneak onto the computer. Therefore, it is not very easy to prevent them from entering computers. Luckily, there is a solution – an automatic tool will protect the computer 24/7 for you. It is evident that you do not have a security application installed on your PC or it is untrustworthy if Jordan Ransomware has found a way to enter the computer, so go to get a reputable application.
Since Jordan Ransomware does not make any huge modifications on the computer it infects, it should be possible to delete it fully by finding and erasing the malicious executable file that opens this threat. Most probably, it is located in %TEMP%, %USERPROFILE%\Downloads, or on Desktop, so go to check these directories first. If the malicious file of this ransomware infection is nowhere to be seen, download and then perform the scan with an antimalware tool, e.g. SpyHunter. This is the effective method we have told you about in the first paragraph.
Remove Jordan Ransomware
Close the window of the ransomware infection.
Open the Windows Explorer (Win+E).
Check %TEMP%, %USERPROFILE%\Downloads, and Desktop one after the other to find the malicious file.
Delete it.
Empty the Recycle bin.
In non-techie terms:
Ransomware infections are quite prevalent these days. Probably, cyber criminals have found an easy way to extort money from people, so they do not stop developing new threats. To be frank, the ransomware infection might very quickly sneak onto the computer, so security specialists suggest installing a security application on the computer as soon as possible and being careful with software promoted on third-party websites.