Do you know what Jokers House Ransomware is?
If you ever find a program that goes by the name of Jokers House Ransomware, be sure to execute its complete removal right away. It is nothing more than yet another file-encrypting program that is used by malware developers to profit illegally from unsuspecting Internet users. It goes without saying that having this malicious program fully active on your person computer could have devastating outcomes. As it turns out this malware comes from an infamous Jigsaw Ransomware family. For a more in-depth information in regards to its functionality, be sure to read this article. In the report, you will also find a few simple, yet very effective tips that will help you keep your PC secure at all times. Additionally, we provide detailed removal instructions that should be used to terminate Jokers House Ransomware.
Jokers House Ransomware acts in a straightforward manner. Like a lot of other applications from Jigsaw, Ransomware family it starts the encryption procedure as soon as it gains full access to your operating system. The malicious program uses a strong AES algorithm cipher to lock your files; thus, manual decryption is out of the question. During our analysis it has been discovered that while the ransomware in question does not affect files essential for Windows operating system's functionality it targets file types such as .doc, .docx .jpg, .jpeg, .raw, .tif, .gif, .avi, .mov, .mp4, and quite a few others. Every file locked by it receives a .Contact_TarineOZA@Gmail.com_ extension. In addition to such functionality, it also implements a point of execution within your registry system. This means that upon every single system startup, the malicious program in question will trigger an encryption procedure. Once your data is locked, you will see a devious warning message. It tells you that you no longer have access to your data and that you must pay $100 worth of Bitcoins to the developers of this program if you wish to unlock your data. You need to make the payment in approximately 24 hours; otherwise, the encrypted data will be destroyed. While it might seem like a way to regain your personal files keep in mind that developers of this application are not obliged in a legal way to decrypt your data even if you happen to pay up. Your best bet to avoid detrimental outcomes induced by Jokers House Ransomware is by executing its complete removal. Do so by following the detailed instructions that we present below.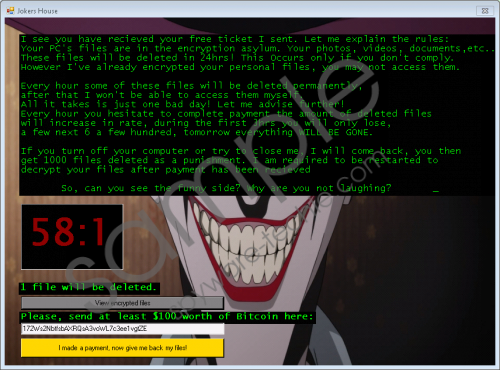 Jokers House Ransomware screenshot
Scroll down for full removal instructions
If you consider yourself to be a security-conscious user, you must take preventative steps to have a fully secure operating system at all times. As it turns out in a lot of cases malicious applications such as Jokers House Ransomware are distributed via spam e-mail attachments. Therefore, our research team advises you obtain attachments only from identifiable and trustworthy senders. An additional way to significantly reduce the risk of coming across malicious software is by downloading all of your programs from their official developer's websites only. Be sure to avoid all unauthorized third-party download sites as they are infamous for hosting bundled installers, which are quite often used by malware developers to spread their questionable applications. Furthermore, we advise you to always obtain as much information as possible about a program you wish to have before even downloading it. It is important to do so because cyber crooks tend to use bogus marketing to lure naive internet users into downloading a program without fully understanding its functionality. Finally and most importantly, be sure to install a professional antimalware tool since it provides overall virtual security at all times.
Follow the instructions that we provide below with care, and you will be able to delete Jokers House Ransomware in its entirety. It is critical to terminate every single bit linked to this ransomware; otherwise, its traces might be used for its further functionality. In other instances, leftovers associated with this malicious program could be used for its full, silent restoration. To be absolutely sure that every single bit of Jokers House Ransomware has been removed, you need to execute an in-depth analysis of your personal computer for its traces. Be sure to perform such analysis as soon as you are done with the instructions that we provide below.
How to remove Jokers House Ransomware from your PC
Open your File Explorer.
Navigate to C:\Users\(your username)\AppData\Roaming.
Select a folder called Windows Processing and tap Delete on your keyboard.
Click the Windows button.
Type regedit into the search box and then select it.
Navigate to HKEY_CURRENT_USER\Software\Microsoft\Windows\CurrentVersion\Run.
Select a registry value called cmd.exe and tap Delete on your kyeboard.
Right-click your Recycle Bin and select Empty Recycle Bin.
In non-techie terms:
Do not worry if you happen to find manual removal and analysis of your operating system a bit too complicated. In such a case use the alternative instructions that we provide below. By doing so, you will be able to delete Jokers House Ransomware in a fully automated manner.