Do you know what Joeyyoga.com is?
Our research team says that Joeyyoga.com is a browser hijacker, so it means that it will modify your browser's settings behind your back. The settings will be modified in a way that will help the hijacker generate a financial profit. Albeit the program will not steal your financial information directly, it could still lead to various computer security issues you cannot ignore. Therefore, we have come up with the manual removal instructions that you can find below this description. Delete Joeyyoga.com from your computer right now to avoid severe computer problems later in the future.
One of the reasons that make it easier to deal with Joeyyoga.com is the fact that this browser hijacker is a direct clone of many other similar infections. For instance, we know that it is practically identical to footbase.com, videobah.com, doseofhealthy.com, and other browser hijackers developed by the same creators. After a thorough research, we have found that the creator of the Joeyyoga.com site seems to be Vladik Altshuler, who is currently the owner of Valtmedia. Now, we are not sure whether the program was initially a browser hijacker, or whether it has been modified to perform such functions by a malevolent third party, but either way, it shows that such sites have a tendency to be exploited for malicious purposes.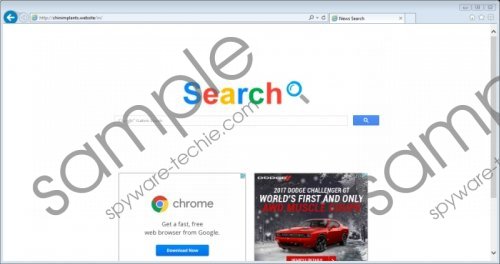 Joeyyoga.com screenshot
Scroll down for full removal instructions
This browser hijacker is compatible only with the Chrome browser, but it may work on different operating systems. According to the affected users, it works on Windows, OsX, and even Chromebooks. The biggest number of complaints about this program comes from South Korea, France, Belgium, United Arab Emirates, Saudi Arabia, and Egypt. On the other hand, as we all know, software does not recognize national borders, so if you manage to encounter the hijacker's distribution network, you could get infected with it, too.
What should you look out for to avoid this infection? First, please refrain from downloading freeware applications. File-sharing websites are often full of third-party installers that bundle several applications in one package, and users usually are not aware of that. As a result, they install more than just one program, and some of the installed applications could prove to be quite risky. Needless to say, Joeyyoga.com might be one of those unwanted apps.
Why are browser hijackers so risky? The problem is that they can collect information on your web browsing habits. Of course, they cannot steal your logins and passwords, but soon enough, the people behind such programs like Joeyyoga.com will know the websites you frequent, and the keywords you use for your searches. Consequently, they should be able to generate customized commercial content that you will encounter each time you open your browser.
Computer users, who have encountered Joeyyoga.com, complain that the program redirects them when they click on legitimate links on various websites, or when they open a new tab. This is definitely very annoying, but it could prove to be dangerous, too.
The danger lies behind the fact that Joeyyoga.com does not check the third-party content it promotes. Basically, even if the program has a privacy policy, this policy does not cover the third-party content. This is a security loophole that can be easily exploited by cyber criminals. For instance, if hackers decide to make use of Joeyyoga.com, they could embed their own content in those redirecting links, and users could find themselves in malware-related pages. If that happens, a malicious infection would be only one click away.
You cannot risk that, so it is for the best to remove Joeyyoga.com from your system right now. You can do it by restoring your browser's settings to default. Although one must not forget other potentially unwanted programs that could have entered the system together with this browser hijacker.
How do you find all these unwanted programs? The best way is to run a full system scan with the SpyHunter free scanner. All the unwanted programs will be detected immediately, and you will be able to terminate them automatically. What's more, by investing in a licensed antispyware application, you will safeguard your computer from other potential threats that might barge into your system later on. Finally, if you have more computer security-related questions, do not hesitate to leave us a comment.
How to Remove Joeyyoga.com
Open the Chrome browser.
Press Alt+F and go to Settings.
Scroll down and click Show advanced settings.
Scroll down again and click Reset settings.
Press Reset to confirm.
In non-techie terms:
Joeyyoga.com might not look like a dangerous computer threat, but this search redirect could be exploited by bad people to steal your information, or to spam you with corrupted content. If you keep this program on your computer, eventually, you might experience a severe infection. So the sooner you remove Joeyyoga.com, the better. Please do not hesitate to ask for help if you think that manual removal is too complicated.