Do you know what Java Software Critical Update is?
Java Software Critical Update is a fake alert that travels bundled with potentially unwanted programs and adware. This application affects all main browsers including Internet Explorer, Mozilla Firefox and Google Chrome, and it makes an impression that your Java is outdated and you need to download a new update in order for your plug-ins to function properly. However, there is nothing legitimate about Java Software Critical Update and it is a scam devised by malevolent third parties to use in their corrupted marketing schemes.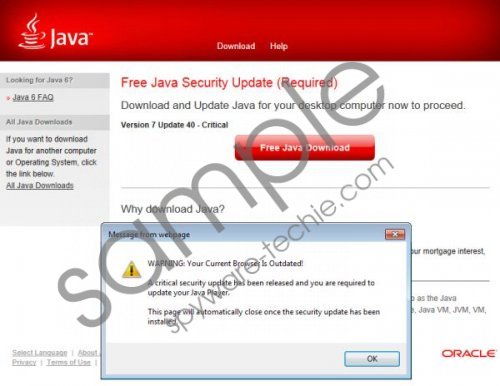 Java Software Critical Update Fake alert screenshot
Scroll down for full removal instructions
The problem with this fake alert is that restoring your browser's settings to default may not be enough to remove Java Software Critical Update from your computer for good. That is so, because the fake alert is usually bundled with other applications (such as PC Speed Maximizer or MyPCBackup) that users download from third party file hosting web pages. That also means that most probably you are the one who has downloaded the installer file for Java Software Critical Update onto your computer. Having this fake alert pop up on your browser does not mean that you are infected with malware, but there is a high chance that it might happen, because such applications are very good at exploiting system vulnerabilities.
JAVA: WARNING: Your Current Browser Is Outdated!
A critical security update has been released and you are required to update your Java Player.

This page will automatically close once the security update has been installed
This is the message that is displayed on your browser when Java Software Critical Update gets installed on your computer. It is actually logical that corrupted marketing tactics target Java software; after all, the developers of Java tend to release big software patches that fix a lot of security vulnerabilities present. Hence, if you have not updated your Java for a long time, there is a chance that you could get exposed to this infection sooner or later.
Java Software Critical Update may not be an extremely dangerous Trojan or ransomware infection, but via third party ads and other applications (especially if you download the so-called "update") you could end up getting infected with something dangerous that would steal personal information and jeopardize your system security. Thus, once again we need to emphasize how IMPORTANT it is to remove Java Software Critical Update and all the related applications from your computer.
If you do not remember which applications Java Software Critical Update came with, scan your PC with licensed antimalware tool and remove any potentially dangerous program there is. Also, check out the instructions below on how to restore your browser settings to default.
Reset your browser
Internet Explorer
Open browser and press Alt+X.
Select Internet options on drop-down menu.
Open Advanced tab and click Reset.
Mark Delete personal settings option and click Reset.
Press Close.
Mozilla Firefox
Open browser and press Firefox button.
Navigate to Help and click Troubleshooting information.
Click Reset Firefox at the top right corner of the new tab.
Click Reset Firefox on a pop-up box. Press Finish.
Google Chrome
Press Alt+F and click Settings.
Go down to Users, highlight your account and press Delete.
If you are still having trouble with Java Software Critical Update after automatic removal, leave me a comment below.
In non-techie terms:
Java Software Critical Update is a message that pops up on your browser when you install a number of potentially unwanted applications your PC. Make sure you remove Java Software Critical Update from your system and protect the PC against any potential threats.
Aliases: Java Critical Update.