Do you know what IT.Books Ransomware is?
IT.Books Ransomware is a dangerous computer infection that can leave all of your files locked. You may be forced to delete your entire data library if there is no public decryption tool available. However, this program was released quite a while ago, so there is a very good chance that various file recovery options are available.
At the moment, your main task is to remove IT.Books Ransomware from your computer, and you can do that by following the removal guidelines at the bottom of this entry. For more information, please feel free to leave us a comment.
Although it is important to know how to remove a malicious infection, it takes a lot less effort to avoid getting infected. For that, one needs to know how malware spreads around. IT.Books Ransomware and other ransomware programs usually travel via spam. Spam emails tend to carry file attachments that look like regular documents. When ransomware installer file pretends to be a regular document, users are tricked into downloading and opening it.
Sometimes the email says that it is an online shopping invoice. Sometimes it looks like a financial report from some corporation. The point is that the criminals will try their best to push users into opening those files. Some reports say that IT.Books Ransomware may spread through a file that looks like an e-book (hence the name). Users are tricked into thinking that they are about to check some electronic book, but in reality, they launch the infection.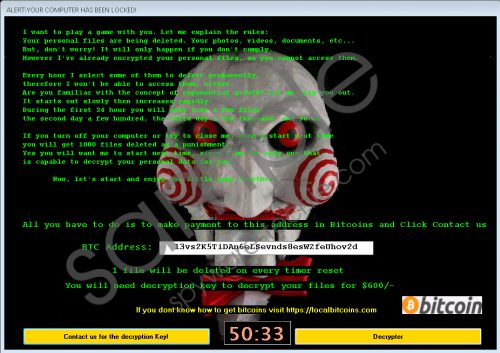 IT.Books Ransomware screenshot
Scroll down for full removal instructions
Thus, you need to be really careful about the files you download and open. If someone is very eager to make you open a certain file and if you don't know the sender, it's the first flag that something is not right. On the other hand, sometimes it might seem that the file is important, and you simply must check it out. In such a case, you can scan the file with a security tool of your choice before opening it. If the scanner deems the file safe, it is okay to open it.
Nevertheless, now that IT.Books Ransomware entered your system, we need to see what happens. As you can probably tell, this ransomware program runs a full file encryption. It is safe to say that all of your personal files will be encrypted with a strong encryption algorithm. This program doesn't cripple the entire system, however. It leaves the %WinDir% directory files intact, and so your computer still functions properly.
It is very common that ransomware programs leave system files intact. After all, they need to collect the ransom payments, and if the system is completely crippled, it would be impossible. To collect the ransom payment, IT.Books Ransomware displays a ransom note. The ransom note can be displayed both on your desktop and on a separate pop-up. We would like to point out that this program often changes the desktop background to make a bigger impact, and thus push users into paying the ransom fee. Here's what the ransom note has to say, by the way:
Files has been encrypted with strong KEY
Send payment to our bitcoin address
you can visit google or localbitcoin to buy bitcoin.
BTS Address: [address]
After payment click contact us you will receive Decryption KEY in less than 1 hour.
It should also be pointed out that IT.Books Ransomware threatens to start deleting your files if you fail to transfer the payment. However, one should never feel threatened by this infection. Of course, the best way to deal with this issue is to remove IT.Books Ransomware for good alone with the encrypted files, and then transfer healthy copies back into your system. But not everyone has a file backup. Not everyone regularly saves copies of important files someplace else, and so getting all of your files back could be a challenge.
If you do not feel confident about removing IT.Books Ransomware on your own; you can always acquire a powerful antispyware application that will help you terminate this infection for good. What's more, you will be able to protect your system from similar intruders in the future. However, do not forget to back up your data on an external hard drive or a cloud drive. That is actually the most efficient way to protect your system against a ransomware infection.
How to Remove IT.Books Ransomware
Press Ctrl+Shift+Esc and open Task Manager.
Click the Processes tab and highlight malicious processes.
Click End Process and exit Task Manager.
Delete the most recent files from Desktop.
Go the Downloads folder and remove the most recent files.
Press Win+R and type %TEMP%. Click OK.
Remove the most recent files.
Remove the READ__IT.txt file from Desktop.
Press Win+R and type %APPDATA%. Click OK.
Delete the ranx.jpg file and scan your PC with SpyHunter.
In non-techie terms:
IT.Books Ransomware is a malicious computer infection that will expect you to pay money for file decryption. You should never give your money away to these criminals because it would only encourage them to create more malware. Use the instructions above to remove IT.Books Ransomware for good, and then safeguard your system against other potential threats. Be sure that you back up your files and stay away from suspicious content you receive via email.