Do you know what IStreamSearch is?
IStreamSearch is an extension, and you are free to download it onto your Google Chrome browser. Do you know what else is free? Malware and PUPs (potentially unwanted programs), which is why just because something is free that shouldn't be a deciding factor when installing it. Perhaps you installed this PUP thinking that it can help you with streaming or finding streaming services. Well, in this regard, it is no more useful than Google, Bing, Yahoo, or any other search engine. That is because the only feature that this extension offers is a search tool. Some Chrome users might think that there is no harm in trying out new search tools, and while that can be true, when it comes to web searches, you should only use trusted and beneficial tools. This PUP does not meet these requirements, and that is why we advise deleting it. Do you want to learn how to remove IStreamSearch?
According to our research team, IStreamSearch is identical to MovieSearches, ConverterSearchNow, NewVideoSearch, AllRadioSearch, TheConverterSearch, and tons of other Google Chrome-compatible extensions that do not even seem to try to offer anything useful. For the most part, these PUPs can be downloaded from the Chrome Web Store, and you might have downloaded IStreamSearch from chrome.google.com/webstore/detail/istreamsearch/opfleddepnbchppinbpehkeiigicjdgd. The description that you can find on this page is identical to the descriptions of all other clones, and it simply states that the extension can offer an "optimized" search tool. That does not make any sense, but less knowledgeable users might be hooked. Once the PUP is installed, it immediately starts tracking information with the help of cookies. Web cookies are small pieces of data that can be very helpful but also can be very intrusive, and we always recommend removing the cookies that belong to unreliable, suspicious services or tools.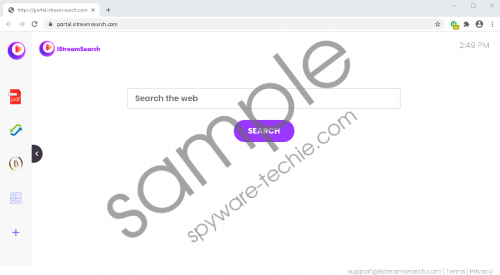 IStreamSearch screenshot
Scroll down for full removal instructions
While you might not notice when IStreamSearch collects information about you, you might notice that this PUP changes the default search provider to feed.istreamsearch.com. That being said, this search tool is sneaky, and when you enter search keywords into the browser's address bar, you might not notice that they are redirected via the PUP's engine before you land on search.yahoo.com. Are you familiar with this search engine? Perhaps you use it on a daily basis? Yahoo Search is well known and well respected, but it can be exploited by IStreamSearch and similar PUPs that can modify the results shown via it. The PUP injects advertisements and sponsored content, and interacting with it could be dangerous. According to our research team, it is best to delete the suspicious extension and set a trusted search tool as the default one if you want to browse the web efficiently and safely.
We are sure that most Chrome users already know how to delete IStreamSearch, and the guide below explains the process in detail. But do you know how to clear web cookies and the remaining browsing data that might be linked to the PUP? The additional steps in our guide show how to do it. If you do not want to clear everything, choose a time range, in which the PUP was installed. It is also a good idea to inspect your system with a trusted malware scanner because if one suspicious extension has managed to slither in without notice, perhaps more serious threats exist too. If you find that you need to remove IStreamSearch along with malware, do not hesitate to implement anti-malware software.
Remove IStreamSearch from Google Chrome
Open the browser and tap Alt+F to open the Chrome menu.
Click More tools, then Extensions, and go on to Remove the PUP.
Tap Ctrl+Shift+Delete to open the Clear browsing data menu.
Select the time range and boxes you want and click Clear data.
In non-techie terms:
IStreamSearch has nothing to do with streaming, and it cannot provide you with an enhanced search experience. This potentially unwanted program was created for the purposes of collecting information about you and also muddying up your searches with ads and sponsored content served by unpredictable parties. Without a doubt, this is not the search tool we would ever recommend trusting or using. Instead, we recommend that you delete IStreamSearch. You should have no trouble eliminating the PUP manually using the guide above, but note that you can always use the assistance of automated anti-malware software as well if you need it.