Do you know what IStreamingSearch is?
If you believe IStreamingSearch's description, it is a browser extension that provides the best way to search the Internet. Our researchers say that is not the first extension that is said to be able to provide the best way to search. You should also know that IStreamingSearch and the other applications similar to it were classified as potentially unwanted programs. Such software might have not only exaggerated descriptions but also unwanted functionality. Therefore, we highly recommend learning more about the extension in question if you come across it. You can find more information about it if you continue reading our report. In case you want to learn how to delete IStreamingSearch from your browser, we advise checking the removal guide available below this article. We also provide a comments section that we invite you to use if you have any questions about the potentially unwanted program.
IStreamingSearch used to be available on the Chrome Web Store page, but our researchers report that the extension can no longer be found on the mentioned platform. However, the application has its official website called istreamingsearch.com, and it could be spread through other channels too. Like other potentially unwanted programs, it might be spread through file-sharing websites, redirection, and advertisements. Thus, it is vital not to interact with questionable ads and buttons if you wish to avoid potentially unwanted programs alike. We recommend investigating tools before installing them to avoid receiving software that could later appear to be annoying or potentially dangerous. Of course, having a reputable antimalware tool could also make it easier to keep away from potentially unwanted programs as well as malicious applications.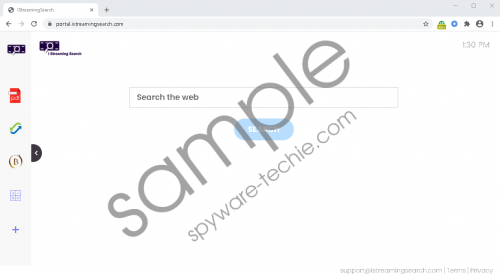 IStreamingSearch screenshot
Scroll down for full removal instructions
We mentioned in the beginning that IStreamingSearch's description says that it provides the best way to search. What could it be? It appears that the application's creators think that the best way to search is to use a search website that redirects to a popular search engine. What we mean to say is that the extension does not offer any advanced search tools. What it does is provide a search website that may redirect users to the Yahoo search engine, which ought to gather and display the needed search results. The question is, why install a third-party tool when you can go to search.yahoo.com directly and insert your search keywords into its provided search box? Our researchers say that like similar potentially unwanted programs, the extension could be used to show users targeted advertisements. We cannot confirm this, but you should know that there is such a possibility. If you do not want to risk encountering third-party ads from unknown sources or do not find this application useful, you could erase IStreamingSearch.
Users who decide they no longer wish to keep the potentially unwanted program can erase it either manually or with a chosen antimalware tool. If you select the first option, you could use the removal guide placed below. They show how to delete IStreamingSearch from Google Chrome step by step. If you pick the other option, we advise installing a reputable antimalware tool, performing a full system scan with it, and then pressing the displayed removal button.
Delete IStreamingSearch
Launch Google Chrome.
Press ALT+F.
Tap on More Tools and select Extensions.
Choose IStreamingSearch.
Press Remove.
Click Remove again to finish.
In non-techie terms:
IStreamingSearch is a potentially unwanted program. As you can imagine, such applications might have annoying qualities that may make them undesirable to those who use them. For instance, this extension promises to provide the best way to search, but it gives access to a search website called portal.istreamingsearch.com that does not seem to be able to gather and display search results on its own. To be more precise, the potentially unwanted program's search website might employ the Yahoo search engine to gather and show users their search results. Is using a search tool that redirects to Yahoo is the best way to search? That depends on whether you like the Yahoo search engine. Also, it might be easier to search via the Yahoo search engine directly. You can do so by typing search.yahoo.com into your browser's address bar instead of keeping the potentially unwanted program. If you decide to erase IStreamingSearch, we can offer the removal guide available above this paragraph, or you could employ a reputable antimalware tool that could eliminate the unwanted extension for you.