Do you know what iSportTV Search Plus Extension is?
An extension called iSportTV Search Plus Extension has emerged, and it is compatible with Google Chrome. The extension is presented by ienjoyapps.com, which also presents iMovie Search, iMusic Search, iGames Search, and similar extensions, all of which are promoted in a highly positive manner. Our research team classifies them as potentially unwanted programs (PUPs). The extension we are discussing in this report is meant to work as a "powerful search engine" with amazing unique features. It is meant to help you keep up with sports channels via a reconfigured default search provider. To activate it, you can type "sport" into the browser's address bar and tap the Tab key on the keyboard. Although the search tool might seem to be beneficial and useful, our research team recommends deleting it. If you have no idea why you should remove iSportTV Search Plus Extension, continue reading this report.
Although the suspicious iSportTV Search Plus Extension is represented by ienjoyapps.com, the installer for this potentially unwanted program is found at chrome.google.com/webstore/detail/isporttv-search-plus/ofhbiojecnjgmhlfihgdmcihinliepao. The Chrome webstore is considered to be a reliable source for Google Chrome extensions, but, in some cases, PUPs, hijackers, and simply useless add-ons are offered as well, which is why you need to be selective when it comes to installing new and unfamiliar add-ons. When installing the extension from this source, you are informed that iSportTV Search Plus can change search settings to search.searchalgo.com. What that means is that the PUP modifies the default search provider, which is the reasoning some have for identifying this extension as a browser hijacker. Our research has also shown that the PUP came bundled with an additional offer of "Search Safely Plus." If you have installed it, you might have to remove it as well. It is also possible that you have to delete malware if you have installed this extension bundled with more dangerous programs.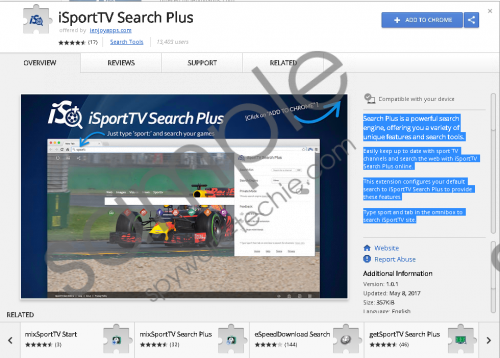 iSportTV Search Plus Extension screenshot
Scroll down for full removal instructions
If you activate the iSportTV Search Plus Extension search tool via the address bar, you are redirected to i.tvnoop.com/tv/search. This website offers TV guides, on-demand videos, and other content. If you do not use the special search tool, you are automatically redirected to Yahoo Search via sport.searchalgo.com. You have the option to change the search provider to Google, Yandex, Bing, Facebook, YouTube, eBay, Amazon, Instagram, Twitter, or Pinterest, but all searches are taken through the sport.searchalgo.com engine. Unfortunately, your search results can be modified to include third-party content, and it could be unreliable or misleading, which is why you have to be very cautious. Overall, although iSportTV Search Plus offers to switch between search engines at any point, you do not want to be exposed to potentially unreliable search results, and that is why we recommend removing this potentially unwanted program.
Use the guide below to delete iSportTV Search Plus Extension from your Google Chrome web browser. Of course, you do not need to erase this Chrome extension manually. You can install a legitimate anti-malware program to get rid of this PUP automatically. You should use this program if you discover other threats or PUPs because they would be eliminated simultaneously. This is also the program you want to install if you want to protect yourself in the future. If you were not warned about iSportTV Search Plus Extension when installing it, you might have to upgrade your security system. Needless to say, the right anti-malware program can handle this as well as the elimination of existing threats.
Remove iSportTV Search Plus Extension
Launch the Google Chrome web browser.
Tap keys Alt+F keys to open the menu on the right.
Choose More tools and then Extensions.
Click the recycle bin next to the unwanted extension.
Select Remove and then restart the browser.
In non-techie terms:
Do not install iSportTV Search Plus Extension onto your Google Chrome web browser, unless you want to be exposed to a search engine that might include sponsored content. Once installed, the extension changes the default search provider to sport.searchalgo.com, and every time you browse the web via the address bar, you are redirected to the chosen search engine. By default, you are rerouted to Yahoo Search, but you have a list of alternative search tools you can choose from. Needless to say, you do not want to face modified search results, and since the services of the add-on are not that great to begin with, there is no reason you should not delete iSportTV Search Plus Extension. You can erase this PUP using the guide above, but we recommend installing anti-malware software instead.