Do you know what Isearch123.com is?
Isearch123.com is a search engine that is known to come with malicious browser add-ons that change the homepage and search provider to its address. You might want to remove it from your web browser because it does all this without asking your permission. Not only that but it also hijacks the Target line of Chrome, Internet Explorer and Firefox (Edge not affected) thus preventing you from changing the homepage/new tab page and search provider settings. The real problem, however, is that Isearch123.com is part of a large web monetization scheme that involves dozens of clone search engines that introduce subtle advertising in their search results. Moreover, this search engine comes from an unknown developer that does not shy away from doing business with shady entities. In short, there is nothing beneficial about this search engine, but if you want to know more, continue reading.
Perhaps it is not surprising that there is no information about Isearch123.com's developer because it is plain to see that it engages in shady advertising practices. Nevertheless, we have managed to find two of its clones called Luckysearches.com or Luckybeginning.com. We also want to mention that all of these search engines belong to the family of browser hijackers that include Qone8.com, Istartsurf.com, Webssearches.com, and Sweet-page.com. All of them are play a small part in a large web monetization scheme that involves infecting your computer with a browser hijacker that changes your web browser's homepage to Isearch123.com or another search engine. The result is subjecting you to commercial ads that appear as search-related suggestions.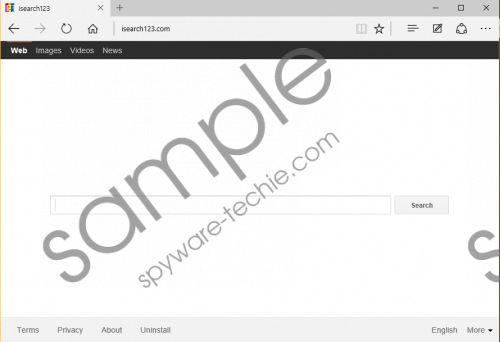 Isearch123.com screenshot
Scroll down for full removal instructions
However, before we go any further, we have to discuss its distribution methods. So our malware researchers have found that Isearch123.com is distributed only via software bundles. These software bundles can be featured on a variety of shady software hosting websites. Also, our research has revealed that this browser hijacker comes with SupTab, Quick Start or Fast Start browser extensions that are compatible with Internet Explorer, Google Chrome, and Mozilla Firefox. Therefore, you should opt out the installation of these browser add-ons if you happen to encounter them.
If you have been unfortunate enough to accidentally install the aforementioned browser extension, then here is what you should expect. First and foremost, you should expect your browser's homepage/new tab page and search engine to be changed to Isearch123.com and your browser shortcut's Target line hijacked so that you could not replace the changes made by this hijacker. If you start using it for processing your searches, then you will be surprised to see that all of them will get redirected to Yahoo.com. However, it will include the promotional links and advertisements injected by the browser hijacker.
Our malware researchers say that this search engine/browser hijacker might promote unreliable and even dangerous content as its owners can exercise the freedom of doing business with any entities it pleases including scammers. Isearch123.com's License Agreement states "It is up to you to take precautions to ensure that whatever you select for your use is free of such items as viruses, worms, Trojan horses and other items of a destructive nature." So its developers do not deny that its search engine may include malware. To be fair, no search engine is completely safe, but industry-leading search engines take the effort to filter out as many illegitimate websites as possible so that they do not appear in the search results. Furthermore, this document states that "Isearch123 makes no recommendations or endorsements about any third-party products and services. References to third-party services and products are provided by Isearch123 "as is", without warranty of any kind, either express or implied." It still features promotional links, and its developers get paid for doing so. Therefore, they have a vested interest in hijacking your browser and keeping it hijacked.
However, have no fear because you can neutralize Isearch123.com all by yourself by following our removal guide. We recommend getting rid of it because it will not improve your searching experience in any fashion. In fact, it will do the opposite of that. So if you do not want to view potentially dangerous ads, then please remove this browser hijacker as soon as possible.
Uninstallthe browser hijacker from Control Panel
Windows XP
Open the Start menu.
Click Control Panel.
Select Add or Remove Programs.
Locate the unwanted software.
Click Remove.
Windows 7/Vista
Open the Start menu.
Select Control Panel.
Click Uninstall a program.
Locate the application.
Click Uninstall.
Windows 10/8.1/8
Right-click on the Start screen.
Click Programs and Features.
Locate the application and double-click on it.
Click Uninstall.
Fix the modifications made to the browser's Target line
Right-click on the browser's shortcut.
Select Properties and open the Shortcut tab.
Fix the Target line by erasing the hijacker's address.
Click OK.
Reset the homepage and search provider
Microsoft Internet Explorer
Simultaneously press the Alt+T keys.
Select Internet Options.
Go to the General tab.
Change the homepage address. and click OK.
Press Alt+T again and select Manage Add-ons.
Select the Search Providers tab.
Remove the malicious search engine.
Mozilla Firefox
Simultaneously press the Alt+T keys.
Select Options.
Go to the General tab.
Change the homepage address.
Then, click the Search tab.
Remove the hijacker's address.
Select a new search engine.
Google Chrome
Simultaneously press the Alt+F keys.
Locate New Tab page.
Click Change and enter a new one.
Then, go to Manage search engines to select a new one.
In non-techie terms:
Isearch123.com is a search engine that comes bundled with malicious software that injects it into your browser thus replacing the search provider and homepage address. It also tries to prevent you from fixing these changes. All of this is done in the name of generating advertising revenue as this search engine is bound to contain its fair share of promotions and suggestions that come from unreliable sources and may compromise your computer's security. So do not hesitate to get rid of it.