Do you know what iScreeny is?
iScreeny is a potentially unwanted program that is presented as a useful tool. Supposedly, this application can help you make screen captures and then share them immediately with your friends. Disregarding whether the program really lives up to its promises or not, our security experts say that iScreeny must be removed immediately because the application most probably entered your computer without your knowledge. All the potentially unwanted programs have to be terminated, no questions asked. For all it's worth, they might have entered your computer with a hidden agenda in mind.
At the same time, we cannot really say that iScreeny is a malicious infection. The reason is that you download and install this program yourself. Naturally, you are not aware of that. It is true that sometimes users download and install applications willingly, but that happens only if you download a program from its official website. However, the same distribution method does not work for iScreeny. We have visited its official page at iscreeny.com, and the website provided us with general information on the program. However, once we tried clicking the Download now button, we were redirected to an error page. This would suggest that iScreeny cannot be distributed directly.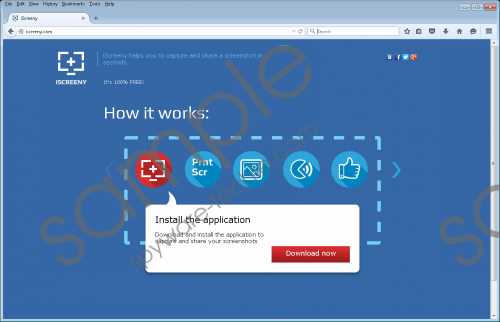 iScreeny screenshot
Scroll down for full removal instructions
Thus, if you have iScreeny on your computer, it means that the application came in a software package with other freeware programs. The third-party installer that distributes iScreeny and other associated programs is often considered to be malicious by a number of computer security tools. An in depth analysis has shown that the software bundle iScreeny comes with can often be identified as generic malware, a hacktool, a Trojan, the Artemis browser hijacker, adware, and many other potentially harmful applications. Thus, when you find a potentially unwanted program on your computer, you might as well get yourself a computer security tool because you have some scanning to do.
You need to run a full system scan with a computer security application of your choice to locate all the potential threats and remove them at once. Do not leave iScreeny out of this because that program must disappear as well. You might think that there is nothing suspicious about the app because it merely helps you screen capture whatever you see on your desktop. However, it did not take long for us to notice that iScreeny does not even work properly. It does not help you share the screen capture images via social media and, on top of that, it cannot even take the screenshots! What's more, the program may be involved in third-party advertising networks, devised to help the adware developers generate financial profit.
Unmonitored third-party advertising could prove to be dangerous, especially if the outgoing links on the ads can redirect users to corrupted websites. The bottom line is that you should not tolerate this situation any longer. Open your Control Panel and remove iScreeny manually.
This is just the beginning, however, as you need to take care of the other potential threats as well. If you scan your PC with the SpyHunter free scanner, you will be able to determine the programs that need to be removed at once. Do not hesitate any longer and do everything to protect your PC from harm.
How to Delete iScreeny
Windows 8 & Windows 8.1
Slide the mouse cursor to the bottom right of your screen.
When the Charm bar opens, click Settings and go to Control Panel.
Open Uninstall a program and remove iScreeny.
Windows Vista & Windows 7
Click the Start menu and go to Control Panel.
Select Uninstall a program and remove iScreeny.
Windows XP
Open the Start menu and go to Control Panel.
Double-click Add or remove programs and uninstall iScreeny.
In non-techie terms:
iScreeny is a dysfunctional application that only takes up your system space and does not provide you with anything useful. The program is associated with potential computer security threats, and it should not be allowed to remain on your system. Please remove iScreeny right now, and then invest in a legitimate computer security tool that will help you protect your PC from similar intruders. For any further questions, you can always leave us a comment below.