Do you know what IRS Online asstmanager@jacktree.com Scam is?
IRS Online asstmanager@jacktree.com Scam is a fraudulent operation during which hackers delivered their targeted victims malicious Microsoft Word documents. It appears such files might have carried installers of a malicious application called Emotet, which falls under the classification of Trojans. It seems it can spy on a victim, record sensitive information like passwords, and even download more threats. If you want to know how one could receive documents carrying this threat, we recommend reading our full report. Also, further in the text, we discuss both IRS Online asstmanager@jacktree.com Scam and the Trojan it distributes in more detail. For users who do not know what to do if they receive the described malicious document, we recommend viewing the removal guide available at the end of this report.
It is believed that the hackers behind the IRS Online asstmanager@jacktree.com Scam are after employees of organizations and businesses. Meaning, it is doubtful the malicious emails could be sent to home users. Targeted email addresses could be obtained from the dark web, or they could be collected from targeted companies' websites and sources alike.
Furthermore, the samples of the emails we were able to research either showed a message suggesting the sender works for some company or that the sender is a customer of a company and is in need of assistance. As mentioned in the beginning, all of IRS Online asstmanager@jacktree.com Scam emails ought to have an attachment, which should be a Microsoft Word document. After opening it, a user should see a blue page saying: "This document created in online version of Microsoft Office Word. To view or edit this document, please click "Enable editing" button on the top yellow bar, and then click "Enable content."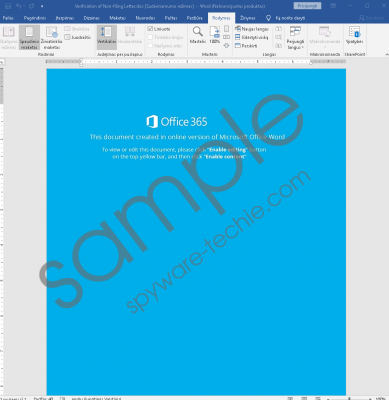 IRS Online asstmanager@jacktree.com Scam screenshot
Scroll down for full removal instructions
Sadly, if a victim does not realize the document could malicious and does what it asks, his computer should become infected with Emotet Trojan. Our computer security specialists say that the malware might change its location and so it might be difficult to get rid do fit manually. Therefore, we advise IRS Online asstmanager@jacktree.com Scam's victims to employ reliable antimalware tools that could deal with the Trojan for them. Keep in mind that if the malicious application was on a computer for some time, it might have installed more threats on it, so a proper system clean-up is highly advisable.
For a more specific list of what you ought to do if you fall victim to IRS Online asstmanager@jacktree.com Scam, you should check our removal guide placed at the end of this paragraph. Also, should you have more questions, do not forget that you can leave us a message in the comments section.
Erase IRS Online asstmanager@jacktree.com Scam
Press Ctrl+Alt+Delete.
Pick Task Manager and check the Processes tab.
Locate a process belonging to the malware.
Choose the process and click End Task.
Exit Task Manager.
Click Windows Key+E.
Navigate to the suggested paths:
%TEMP%
%USERPROFILE%Desktop
%USERPROFILE%Downloads
Find the malicious document downloaded from email, right-click it, and select Delete.
Exit File Explorer.
If you clicked the Enable Content button after opening the malicious document, scan your system with a reputable antimalware tool.
Wait till it locates Emotet and other possible threats and then erase them.
Empty Recycle bin.
Restart the computer.
In non-techie terms:
IRS Online asstmanager@jacktree.com Scam was most likely initiated to distribute a Trojan known as Emotet. While at first, this malicious application was considered to be a banking Trojan, it now appears it could gather more various information and not just data associated with a victim's banking account. This malware ought to be installed on a system if its user opens a document received via email and clicks on Enable content button it should present. Otherwise, the malicious application should not be dropped. Thus, even if you download files, IRS Online asstmanager@jacktree.com Scam distributes, your computer should still be safe. Of course, we do not recommend leaving such data on a system as you could launch it accidentally. The removal guide available above can show you how to erase it. As an extra precaution, we recommend performing a full system scan with a reputable antimalware tool.