Do you know what Iqasearch.com is?
Iqasearch.com is a potentially unreliable search engine similar to Search.realcoolmoviessearch.com, Search.searchinsocial.com, and Search.emaildefendsearch.com. This search engine was developed by IMALI - N.I. MEDIA LTD., and it can mainly appear in your browsers if you click on certain third-party pop-up advertisements while surfing the net. It is also possible that you already have adware on board and that displays an infected pop-up that you click on and end up with this questionable search engine in your browsers. As a matter of fact, this tool seems to affect Mozilla Firefox and Google Chrome only. Internet Explorer and Microsoft Edge remain untouched by this infection, but this might change of course. Because of the potential risks, you should delete Iqasearch.com now before more infections flood your computer.
This search engine is hosted at 52.3.212.43 IP address, which is located in Ashburn, Virginia. It was registered through the very popular Godaddy.com hosting company. Our researchers have discovered that this server gives home to other well-known bad search engines as well, including newtab-tvsearch.com, realcoolmoviessearch.com, safesidesearch.com, search.internetquickaccess.com, and searchinsocial.com. There are mainly two ways for this annoying search engine to show up in your browsers. As we have already mentioned, you may have clicked on a third-party pop-up advertisement and that resulted in the undesirable browser setting changes. It is possible that you were visiting a questionable file-sharing website when looking for a new tool or free software to download. It happens a lot. In fact, that is most probably the main reason why users infect their computers; and most of the time, without their noticing it, too.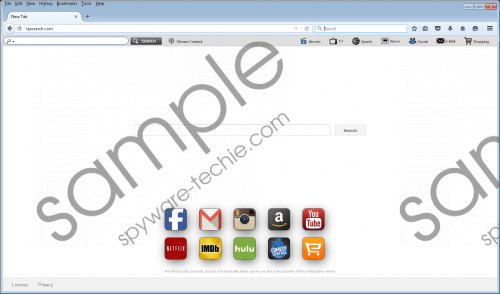 Iqasearch.com screenshot
Scroll down for full removal instructions
Since certain freeware and torrent sites are totally unreliable and therefore unsafe to use, we recommend that you avoid such pages because you may download software bundles that contain several malicious software installers, including this search engine as well. Always use reputable and official sites for downloading new applications. But it is also a possibility that your computer had already been infected with malware, such as adware, and that displayed the pop-up ad for you while you were surfing the net. You should not ever click on any ads or links that are not specifically meant for you; otherwise, you may easily end up on unsafe websites. Clicking on ads and corrupt links can also open one or more new tab pages in your browsers and load malicious websites. You may not know but there are pages that can run a malicious code once the page loads and that can download malware in the background and you would not even realize it. That is how a lot of Trojans, rootkits, adware programs, and other threats spread. If you are in doubt now, you should remove Iqasearch.com and run a system scan right afterwards.
We always suggest that you should use reputable and popular search engines only, because using an unreliable or unfamiliar one may end up badly for you. In this case, for example, all of your search queries end up on a possibly modified Yahoo search results page. So why would you use a search engine at all if it is merely a mediator and redirects you to a third-party site? Of course, the main issue here is not the redirection itself, but the capability of this search engine to modify those results by inserting third-party ads and links among the normal hits. This is how most search engines and browser hijackers promote affiliated websites. Every click on those links and ads means money for the publisher of this search engine. You can see now that providing you with a modern technology to search the web the most productive way is not really the main concern of this search engine.
You can also find a pseudo-toolbar at the top of the page with a search tool and a number of buttons, i.e., easy-access links to third-party websites, including movie links, TV links, sports channels, and more. However, this search engine might be able to use these third-party sites to show you advertisements that may also be targeted at you specifically. This is possible through the information collection this tool may execute using your browsing history, web cookies, and your search queries. If you do not want to be tricked into clicking on ads that may reflect your preferences or needs and thus end up on malicious websites, you should not hesitate to remove Iqasearch.com.
As a matter of fact, it is quite easy to eliminate this threat source since all you need to do is delete the browser extensions in Mozilla Firefox and Google Chrome. If you are unfamiliar with this process, please use our instructions below this article. If you want to keep your computer secure, it is important for you to keep all your drivers and programs, including your browsers, updated. Cyber criminals can exploit bugs and security holes in applications. This is one way to make sure that their access to your computer and files is made more difficult. However, the safest solution is always the installation of a trustworthy antimalware application. If you do not want to hunt down malware infections one by one and leave leftovers on your system, we advise you to implement a security tool.
Remove Iqasearch.com from your browsers
Mozilla Firefox
Press Alt+H and select Troubleshooting Information.
Press Refresh Firefox and click Refresh Firefox again.
Press Finish.
Google Chrome
Press Alt+F and select Settings.
At the bottom, click Show advanced settings.
At the bottom, click Reset settings.
Press Reset in the pop-up.
In non-techie terms:
Iqasearch.com is a useless browser extension that may pose a threat to your virtual security by exposing you to potentially unreliable third-party content through its services. Using this search engine and its quick links may present you with unsafe third-party ads and sponsored links. Clicking on these may result in visiting malicious websites. Since it is quite likely that this search engine is not the only threat on your computer, we advise you to remove Iqasearch.com and all other potential risk factors as well. The most effective way would be the use of a reliable malware removal application that could also safeguard your PC from future infections.