Do you know what InternetSpeedTracker Toolbar is?
Mindspark Interactive Network has unleashed another bad toolbar, InternetSpeedTracker Toolbar, that will hijack your Internet browser as soon as it enters your computer system. You should remove this toolbar because it will change your default search engine and homepage without asking you for your authorization. Legitimate programs would never behave in such a malevolent manner, therefore think about whether it would not be for the best to get rid of InternetSpeedTracker Toolbar and to look for a friendlier alternative. If you are using Internet Explorer, the removal can be performed via Control Panel; however, the users of Mozilla Firefox and Google Chrome will be required to perform additional steps in order to delete InternetSpeedTracker Toolbar from their computers permanently.
InternetSpeedTracker Toolbar is known to spread bundled with malicious software; this is why you should delete not only this application but also all the additional malware it has entered your system with. It is highly probable that you will find this application on unreliable software sites; nevertheless, it does not mean that you should not be attentive when downloading and installing software found on seemingly legitimate sources. You can remove the malicious content easily before any damage is done if you utilize automatic antimalware removal tools; therefore, remember to allocate some of your time to find reliable antimalware software.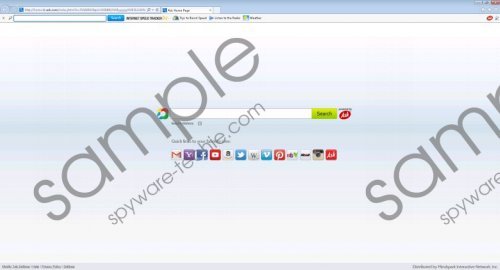 InternetSpeedTracker Toolbar screenshot
Scroll down for full removal instructions
When InternetSpeedTracker Toolbar hijacks your browser, it will start opening up ads on your screen with the aim to redirect you to the featured-third party sites. However, due to the fact that this toolbar-promoted content is inconsistent security-wise, we recommend that you remove InternetSpeedTracker Toolbar. If you refuse to terminate this toolbar, you render your Internet surfing experience more dangerous; the featured third-party content might work as the gateway for malware to be introduced to your system. Also, InternetSpeedTracker Toolbar is aggressive in promoting Ask.com as you default search engine, but we discourage you from relying completely on the search results this engine provides because they might contain unreliable links.
InternetSpeedTracker Toolbar is too dangerous and too annoying to keep it on your system, so remove this toolbar the moment you see it attached to your Internet browser. Remember to avoid any applications or utilities developed by Mindspark Interactive Network in the future as they might display hostile behavior towards your computer, and thus put your system at risk.
Remove InternetSpeedTracker Toolbar
From Windows 8 & 8.1
Open the Charm bar on the bottom left corner of your screen.
Choose Settings.
Click Control Panel.
Choose Small Icons under View by.
Open Programs and Features.
Choose InternetSpeedTracker Toolbar.
Click Uninstall/Change.
From Windows 7 & Vista
Open the Start menu by click the Start button.
Select Control Panel.
Under View by, select Small Icons.
Open Programs and Features.
Select InternetSpeedTracker Toolbar.
Click Uninstall/Change.
From Windows XP
Open the Start Menu by click the Start button.
Select Control Panel.
Switch to Classic View.
Open Add or Remove Programs.
Select InternetSpeedTracker Toolbar.
Click Remove.
Remove InternetSpeedTracker Toolbar from your Internet browser
Mozilla Firefox
Click the symbol to the right of the address box to open the menu.
Click the "Open Help Menu" symbol at the bottom.
Choose Troubleshooting Information.
Click Refresh Firefox twice to confirm.
Reopen Mozilla Firefox.
Google Chrome
Press Alt+F to open the menu, and then select Settings.
Scroll down to the bottom, and then click Show advanced settings.
Scroll down to the bottom ,and then click Reset settings.
Click Reset.
Restart Google Chrome.
In non-techie terms:
InternetSpeedTracker Toolbar is a hostile adware application that manifests itself as an Internet browser extension. It automatically changes your homepage and default search provider, and thus takes hold of your browser. Besides being completely useless, this application can put your computer system in danger by redirecting you to unsafe websites. Install a reliable antimalware tool to delete this infection and all the malicious content that might have slithered onto your system.