Do you know what InternetSpeedTester is?
It is quite possible that you have not installed InternetSpeedTester knowingly because our researchers have not found an official sample of this new application. This new potentially unwanted program (PUP) seem to be an identical clone of UltimateSpeedTester. As a matter of fact, on its supposed official website the title still refers to this previous program. The real issue is that not only is this PUP completely useless by displaying a third-party Internet speed testing website in a desktop application window, but it also may enter your system in suspicious ways. So when you find this PUP on board, you may find other threats as well, and those will most likely be more serious, too. This is why you should not stop at the first step when you remove InternetSpeedTester from your system; it is best to go all the way to make sure that not a single threat source remains on your PC.
Our researchers found a webpage, ispt.dist-app.com, which is supposedly the future promotional website for this PUP. For the time being it seems to be under development. So much, in fact, that it still has the old title referring to the previous clone and the only software you can download from this page without any information yet is called Messenger Time, which is obviously a questionable desktop app to login to Messenger. This is all a bit suspicious and anything but professional. We hope that this alone is enough for you to lose faith in this potentially unreliable program and see why we say that it is best to delete InternetSpeedTester. But there is more, of course.
You can easily install this PUP if you are not cautious enough and download a freeware bundle in a suspicious way. What do we mean by that? Well, let us say, you may want to download a free application and run a web search. If you are not familiar with the nature of the majority of file-sharing websites, you may click on the wrong link in the results list and end up on a malicious P2P site, such as a torrent and freeware site. These are commonly known places for the promotion of malicious software bundles. One click on the wrong button or content and you could drop a bundle filled with PUPs and malware infections like adware programs, Trojans, fake alerts, and browser hijackers among others. This can also happen if you click on any random corrupt third-party advertisement on suspicious websites usually associated with online betting, gaming, video streaming, and dating. If you may have installed such a bundle recently, we suggest that you use a reliable online malware scanner to find all possible threats on your PC after you delete InternetSpeedTester .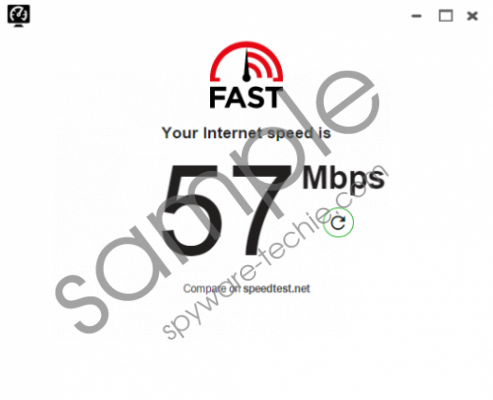 InternetSpeedTester screenshot
Scroll down for full removal instructions
It seems that this useless program is quite similar to other PUPs like DailyWiki and DailyBee, which also use a third-party website as their content for a desktop application. This software shows you your Internet speed, which is actually measured by fast.com, a third-party webpage. It is clearly more secure for you to use such a website directly from your browser. It just does not make too much sense to use a questionable program, which god knows what else has brought on board along with it. We cannot say that this application may run malicious operations in the background without your knowledge; however, it does start up automatically with Windows and you are not allowed to change this setting, which is a bit suspicious again. No wonder why we tell you to remove InternetSpeedTester from your computer.
The last issue we have with this PUP is that you cannot uninstall it without leaving some leftovers on your system, which you will have to take care of manually if you want to make sure that this application is completely gone. Please use our instructions below this report if you want to take matters into your own hands. But, keep in mind that this may not fully solve your system security issues. It is more likely that you will find other threats on your PC. If you would like to keep your computer clean in the future, we suggest that you install a reputable malware removal application, such as SpyHunter. Such security software can automatically eliminate all possible threats when kept updated and active in the background.
InternetSpeedTester removal from Windows
Windows XP
Click Start and go to Control Panel.
Select Add or Remove Programs.
Choose the application and click Remove.
Windows Vista, Windows 7, Windows 8, Windows 8.1, and Windows 10
Tap Win+R and type control panel. Press OK.
Click Uninstall a program.
Choose the application and click Uninstall.
How to remove leftovers
Tap Win+R and type regedit. Press OK.
Close the editor.
Tap Win+E.
Delete the "%LOCALAPPDATA%\InternetSpeedTester" folder.
Empty your Recycle Bin and reboot your system.
In non-techie terms:
InternetSpeedTester is a new application that has proved to be potentially unreliable and useless based on the tests our researchers made in our internal lab. In fact, this application has been categorized as a potentially unwanted program. We have found that it is a complete clone of a previous tool called UltimateSpeedTester. This new version is not yet available for download officially, just like its supposed promotional website does not seem ready to roll. Still, it seems that this PUP keeps spreading in alternative ways, which also means that you may have more serious system security issues now on your computer. This program can be found bundled with malicious software installers. So, when you decide its fate and you finally remove InternetSpeedTester from your computer, remember to eliminate all other threats as well. We suggest that you install a reliable anti-malware program to do so and to protect your PC from future attacks.