Do you know what Internet Police Department Virus is?
Internet Police Department Virus is a ransomware application that infects computer users in Australia. However, this malicious program has not been developed by Australian cyber criminals. The network reaches far wider because Internet Police Department Virus belongs to the Ukash Virus scam, and there are countless infections intended for different national markets.
The key point of this infection is to make a distinction between the real law enforcement and the fake one. The infection in question poses a legal representative of the Australian Federal Police Crime Commission, but that is very far from the truth. Instead of believing anything this ransomware has to say, you have to remove Internet Police Department Virus from your computer right now.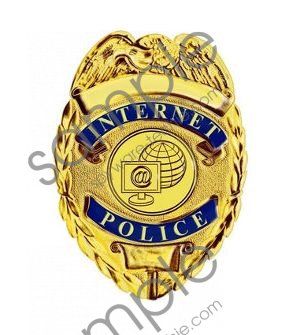 Internet Police Department Virus screenshot
Scroll down for full removal instructions
Internet Police Department Virus is not a stand-alone infection. It comes from Ukash Virus family, and it is directly related to AFP Crime Commission Virus, Australian Communications and Media Authority virus, and all the other ransomware applications that have been intended for the Australian market. Just like its predecessors, Internet Police Department Virus tries to convince you that you have done something terribly wrong and now you need to "pay" for it by either serving a sentence or paying a fine:
ATTENTION!
Your computer has been blocked up for safety reasons listed below.

The penalty set must be paid in course of 48 hours as of the breach. On expiration of the term, 48 hours that follow will be used for automatic collection of data on yourself and your misconduct, and criminal case will be opened against you.

Amount of fine is AUD $100. You can pay a fine Ukash vouchers.
Paying the fine would not solve your problems. Not to mention that Internet Police Department Virus collects your payments via Ukash alternative payment system, which means it would be harder to get your money back, as this payment method does not require you to have a bank account or a credit card. Therefore, even those computer users who are too young to have credit cards can be forced into paying the so-called fine.
However, do not panic, because there is no way in the world that Internet Police Department Virus could forward your personal information to the court. This malicious program only wants your money and it has nothing to do with the Australian Federal Police.
Follow the instructions below to restore your desktop access and then terminate Internet Police Department Virus with a powerful computer security tool that will help you protect your computer from similar infections.
How to unlock your desktop
Windows 8
Press Windows key and metro GUI will open.
Click Internet Explorer and enter http://www.spyware-techie.com/download-sph into address bar. Press Enter.
When download dialog box appears at the bottom of the screen, click Run.
Install SpyHunter and scan your PC.
Windows Vista & Windows 7
Restart your computer and tap F8 repeatedly.
Select Safe Mode with Networking at Advanced Boot Options menu and press Enter.
Access http://www.spyware-techie.com/download-sph and download SpyHunter.
Install the program and run a full system scan.
Windows XP
Follow the steps 1 and 2 above.
Click Yes on the confirmation dialog box.
Download SpyHunter.
Open Start menu and launch Run.
Enter "msconfig" into Open box and press OK.
Open Startup tab on System Configuration Utility.
Uncheck all programs on the list and click OK.
Reboot the PC in Normal Mode.
Install SpyHunter and scan your computer.
You can also leave a comment below if you need any help with Internet Police Department Virus's removal, or you have any questions about computer security.
In non-techie terms:
Internet Police Department Virus is a computer infection that wants your money. Although it tries to make you think that you have committed something terribly wrong, remove Internet Police Department Virus from your computer immediately and protect it from similar threats.
Aliases: