Do you know what IntelliTerm is?
Struggling to remove IntelliTerm? Well then, you've come to the right place. This article is specifically dedicated to safe removal of this adware program from your computer once and for all, because it is considered an adware app. IntelliTerm is supposedly a free and useful application that enhances browsing experience. One might guess that such an obscure function is too good to be true. But before we uncover the reasons why you should delete it, we think it would be in the best interest of the user to know how IntelliTerm might have gotten on his computer.
Our researchers have determined that to date IntelliTerm uses free software bundles as its primary mean of distribution. You may install it from almost any freeware distribution website such as Cnet or Softonic. Note that you should always pay attention to the name of the website from which you want to download anything. Nevertheless, it doesn't mean that IntelliTerm will definitely be installed on your computer without your consent. You may choose to decline the "generous" offer to install it. However, the average user pays little attention to the installation wizard and agrees to anything it prompts. This rushing through the installation process may have undesirable consequences and as a result, you may be forced to remove all kinds of malware.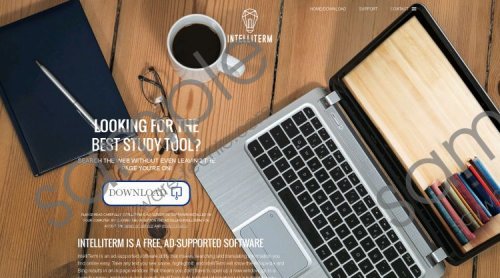 IntelliTerm screenshot
Scroll down for full removal instructions
Once IntelliTerm is installed, it will start to display numerous ads in various formats. Typically of all adware, it displays coupons, inline texts, banners, pop-ups, and so on. We warn users that the content promoted by it cannot be trusted. It is known that IntelliTerm promotes third parties that create fake advertisements that may infect your computer with very dangerous malware, which is why we advocate users to remove it. The user might get infected with ransomware, Trojans, rogue antimalware scanners, and so on. The advertisements generated by IntelliTerm usually have an "Ads by IntelliTerm" label.
It must be said that IntelliTerm is not your usual adware application, because unlike most adware, it does not function as a browser extension. It has been developed to work as a background process, meaning that the user will not see any IntelliTerm related extensions in any web browser. To remove it from your computer, all you have to do is to go to Control Panel, locate IntelliTerm, and delete it.
In conclusion, IntelliTerm offers nothing unique and is not beneficial in any respect. Basically it is an intrusive adware application that promotes all kinds of ads that have been developed by third parties. The ads might prove to be dangerous as their legitimacy is never checked. Therefore, the user might get his system infected with various types of extremely hazardous malware that will severely damage it. IntelliTerm utilizes software bundles as its primary vehicle for distribution, which means that the users may opt out the installation of IntelliTerm. However, if the user has already installed it onto his computer, we recommend users to remove this adware immediately.
How to remove IntelliTerm
Windows 8 or 8.1
Open the Start Screen.
Type Uninstall in the search box and then go to Settings.
In the search results, click Uninstall a program.
Find IntelliTerm and click Uninstall.
Windows 7 or Vista
Click Start.
Select Control Panel.
Click Uninstall a program.
Find IntelliTerm and click Uninstall.
Windows XP
Open the Start menu.
Click Control Panel.
Select Add or Remove Programs.
Find IntelliTerm and click Uninstall.
In non-techie terms:
IntelliTerm is an ad-supported application that offers nothing beneficial to a user's browsing experience. It simply displays multiple annoying ads that could be dangerous, because the adware developers do not check the legitimacy of the promoted content. Therefore, there is a fairly good chance that your computer may get infected with dangerous malware if the adware is to remain on your system. Needless to say, those users who wish to keep their system safe, should remove IntelliTerm without any hesitation.