Do you know what Insurance Shine is?
On its official website, a program known as Insurance Shine is advertised as an excellent tool that you should use to find the best insurance offers out there on the web. Unfortunately, such statements are rather misleading and are mostly used to lure naive Internet user into downloading and installing a program that is questionable, to put it mildly. In fact, malware experts at Spyware-Techie.com have classified this application as yet another invasive adware program that does not exhibit any valuable features. In most cases this ad-supported program will interfere with your daily online activates for as long as it is active on your operating system. At times this dubious program could even act in a rather malicious way, meaning that it could expose your operating system to suspicious web content. Our research team highly advises to delete Insurance Shine as soon as it is found active on your operating system. You can do so by following the detailed removal guide that we present below. Read the rest of this report and learn more about the invasive nature of this adware program.
The adware program in question starts functioning as soon as it gains full access to your operating system. The first indication that Insurance Shine is running on your computer is an unusual amount of third-party web content presented to your while you are surfing the web. In most cases such content manifest itself as commercial ads, annoying pop-ups, and worthless coupons. The fact is that this adware will not be helpful in any way. At times, your web browser could get flooded with so much of that intrusive web content that you might not be able to continue your web browsing session. It goes without saying that such activity will make your overall online experience a miserable one. All of this is possible because the ad-supported program uses a background system service that is used to establish connections to adware servers, which are the main providers of all that unwanted web content. Such activity of this adware could turn out to be malicious. This is so because the adware servers are notorious for being linked to malware distribution. Thus it is not surprising that, during our investigation, we have discovered that some of the ads or pop-ups presented by this ad-supported software could host redirect links within them, meaning that by clicking on them you could be taken to suspicious websites. You could even be taken to a site that might turn out to be hosting malicious software. It goes without saying that ending up on such a website could have devastating outcomes, to say the least. To surf the web the way you are used to and to ensure your overall virtual security you must delete Insurance Shine without any hesitation.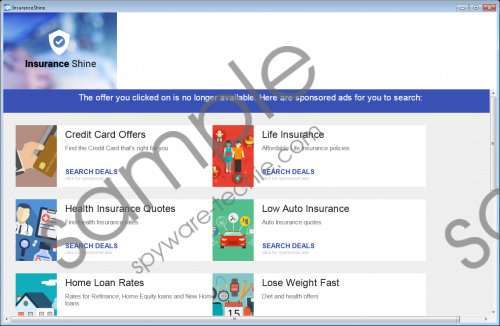 Insurance Shine screenshot
Scroll down for full removal instructions
It is important to note that Insurance Shine is distributed in a questionable way, to put it mildly. Even downloading this program from its official website is a risk that you should not take. Our research team has discovered that the installer hosted on its official website turns out to be filled with other questionable programs. Also, in quite a few cases this ad-supported program could come with other software bundles obtained from suspicious third-party download websites. This is why it is important to take a few steps to improve your virtual security. One of the most important things that you should do is pay extra attention to every single step of an installation procedure. This is critical as in some cases you might be presented with an opportunity to cancel the installation of some unwanted third-party program. By spending some extra time as the setup takes place you could avoid programs such as Insurance Shine form entering your computer. Also, you should have a professional malware detection and removal tool active on your computer at all times. This is paramount since such a tool can identify any suspicious or potentially malicious content beforehand.
The complete removal of Insurance Shine is the only way that you will be able to regain the default functionality of your web browser. Thus, only killing the background system service that this adware uses to perform might not be enough to stop its invasive actives altogether. Make sure to follow the removal guide that we provide below and once you are done with it, you should run an in-depth analysis of your computer to be sure that no leftover files or registry keys related to Insurance Shine are active on your PC.
How to remove Insurance Shine from your PC
Windows 10
Right-click the Windows button.
Select Control Panel.
Click Uninstall a program.
Select the unwanted program.
Click the Uninstall button.
Windows 8 and 8.1
Right-click your Task Bar.
Select Control Panel.
Click Uninstall a program.
Right-click the Insurance Shine.
Select Uninstall.
Windows 7
Click the Windows button and select Control Panel.
Click Uninstall a program.
Select the Insurance Shine and click Uninstall.
Windows XP
Tap the Windows button on your keyboard.
Click Control Panel.
Select the Add or remove programs option.
Double-click Insurance Shine.
Confirm that you want to remove it.
How to remove Insurance Shine leftovers from your PC
Click the Windows button.
Type regedit into the search field and select it.
Go to HKCU\Software\Microsoft\Internet Explorer\DOMStorage.
Locate and delete the registry keys called insuranceshine.com and www.insuranceshine.com.
In non-techie terms:
Some users might find manual removal and analysis of their operating system a bit too complicated. If you are one of those users, you should follow the alternative removal guide below. It will help you delete Insurance Shine fully in an automatic way.