Do you know what InstallCore is?
According to our researchers, InstallCore is a massive family of software installers that can be legitimate or potentially unwanted. It depends on where does the installer comes from, what program it installs and what other additional applications it offers. Naturally, if the setup file offers to install potentially unwanted programs, adware, browser hijackers, or threats alike, it is considered to be unreliable, and antimalware tools should detect it. If you continue reading this article, we will tell you more about InstallCore as well as how to handle such setup files if they appear untrustworthy. Most importantly, we will explain how such data could be distributed and what each of you can do to avoid encountering it. The short removal guide available below will show how to search for the unwanted installer and how to erase it.
To begin with, we would like to talk about how to stay away from unreliable InstallCore setup files that could be offering questionable tools. You will not find such installers on legitimate software web pages, which means they can be encountered while visiting various P2P file-sharing, torrent web pages, and so on. The main application and the additionally suggested tools bundled with the unreliable installer could be various potentially unwanted programs, adware, suspicious toolbars, and other doubtful software. Therefore, you have to be extra cautious when picking new tools, although to avoid any risks we would advise keeping away from untrustworthy file-sharing sites. Also, users should always choose advanced or custom installation settings as they may reveal not only more information about the selected application but also allow you to deselect bundled tools you may not want to be installed automatically.
After launching suspicious InstallCore installers, they should first check the user's location. Based on the region the setup file might suggest additional or bundled software from various third parties. As we said earlier if the installer comes from untrustworthy sources, the bundled software could be various potentially unwanted programs, browser hijackers, and so on. Thus, if the user is not cautious, he could install various questionable tools accidentally. Our computer security specialists say in some cases the buttons the user needs to click to be able to deselect the bundled programs are placed in locations the user would be less likely to notice on the setup wizard. All in all, we believe it is best to be attentive during installation process no matter where from you downloaded InstallCore so there would be no unwanted surprises afterward.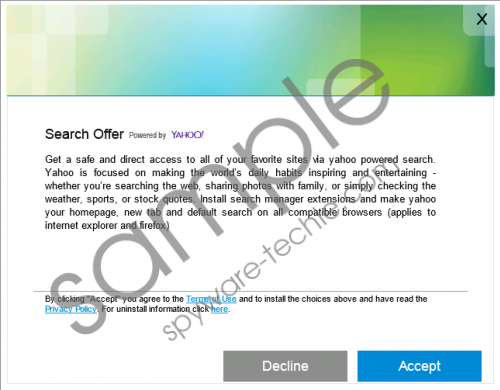 InstallCore screenshot
Scroll down for full removal instructions
If you realize you just launched a suspicious InstallCore installer, we would recommend cancelling the process right away. Next, you should remove the setup file from the location where it was downloaded. The removal guide available below will suggest a couple locations and show how to delete the unwanted file. However, if you finished the installation process and suspect the installer may have placed potentially unwanted programs or other threats on the computer, you should check the system with a reputable antimalware tool.
Eliminate InstallCore
Press Windows Key+E.
Check the following locations:
%TEMP%
%USERPROFILE%\desktop
%USERPROFILE%\downloads
Find the unreliable software installer, right-click it and choose Delete.
Close File Explorer.
Empty Recycle Bin.
Scan the computer with an antimalware tool if you think any threats might have been installed.
In non-techie terms:
InstallCore can be a legitimate or a potentially unwanted program under different circumstances. If it installs legitimate software and is bundled with reliable applications, we do not consider it dangerous. However, some of them are used for installing potential threats, which is why some antimalware tools might identify them as dangerous. Installers offering untrustworthy programs might allow deselecting other suggestions, but the buttons needed to do so might be placed in less visible places, so the user would install them without even realizing it. If you come across such content yourself, we advise deleting the suspicious installer as well as uninstalling any potential threats it may have placed on the system. The instructions above will show how to get rid of it. As to avoid unreliable setup files in the future we would recommend using the tips we provided earlier in the article.