Do you know what Inspiratiooo.com is?
If you ever discover Inspiratiooo.com up and running on your operating system, make sure to execute its complete removal right away. We urge you to do so because this application has been classified as a browser hijacker. Such classification has been made after an in-depth analysis, during which it has been discovered that this dubious program can make intrusive changes to your browser's default settings without any notification or authorisation. Due to such functionality, your online experience will become bothersome and otherwise frustrating, to put it lightly. If that was not enough, you must know that this browser hijacker could prove to be the primary reason other suspicious and even malicious programs could enter your operating system without a lot of trouble. To find out more about the inner workings of this invasive program, make sure to read the rest of this report. Below, you will also find a detailed removal guide, which you should use to delete Inspiratiooo.com once and for all.
Unfortunately, quite a few users might obtain and install Inspiratiooo.com consciously because it is advertised as a great tool. According to various claims, this application should help you browse the web more efficiently. While that might sound tempting, it is critical to note that, in reality, it does the opposite of that. Upon further analysis, our researchers have noticed that this hijacker installs a suspicious third-party browser extension without any notification or authorisation. The dubious plug-in is primarily used to make invasive changes to your browsers default settings. The main alterations that it triggers are of your default homepage and new tab page. One of the most annoying things in regards to such functionality is the fact that you are not notified of these changes. Even though these modifications might seem irrelevant, you must know that they will have a profoundly negative effect on the way you experience the web. For as long as this browser hijacker will be active on your PC, you will have no choice but to start every online session on a questionable third-party website. Virtually the same thing happens in regards to your new tab page; instead of seeing a blank page, you will be presented with a suspicious webpage even if you do not like that. To regain your browser's default settings once and for all, be sure to remove Inspiratiooo.com once and for all. If you fail to delete it, the dubious alterations will continue to bother you.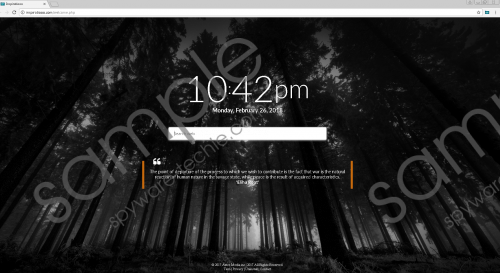 Inspiratiooo.com screenshot
Scroll down for full removal instructions
As mentioned, there is more to Inspiratiooo.com than meets the eye. Upon further analysis, our researchers have discovered that this hijacker could prove to be quite dangerous. As it turns out, using a search box on a newly appointed homepage could lead you to dangerous websites. That is so because some results might be embedded with redirect links. Due to that, you could end up on a site that runs an arbitrary code execution exploit, which is infamous for its ability to initiate a remote installation of some devious application without requiring the user's consent. Thus, just entering a site like that might be more than enough to infect your PC with some unknown malware. In other situations, you might end up on fake online shops, which are set up by cyber crooks for a simple reason – to steal your credit card data. While results embedded with redirect links do not occur often, the chance of coming across one remains. If you are a security-conscious user, make no mistake about Inspiratiooo.com and conduct its complete removal right away. To do that use the instructions that you can find below.
The removal of Inspiratiooo.com should be your utmost priority if it is ever found up and running on your operating system. Under no circumstances delay the removal procedure since keeping this hijacker active on your PC could lead to further virtual security troubles. Once you are done with the instructions below, make sure to double-check your operating system for anything associated with Inspiratiooo.com. Doing so is important because traces of this invasive application could trigger its restoration. Also, those same leftovers might be just enough for Inspiratiooo.com to continue doing its dirty work. Thus, by rechecking your entire operating system for anything associated with the hijacker in question, you will be sure that the termination has been successful.
How to remove Inspiratiooo.com from your PC
Google Chrome
Start your web browser.
Click the Chrome Menu button select More tools.
Click Extensions.
Click the Trash can icon next to the unwanted extension.
Select Remove to confirm your choice.
Mozilla Firefox
Open your web browser.
Click the Menu button and select Add-ons.
Select Extensions.
Click the Remove button next to the suspicious extension to remove it.
Internet Explorer
Launch your web browser.
Click the Menu button and select Manage add-ons.
Select Toolbars and Extensions.
Locate the unwanted extension and click Remove.
In non-techie terms:
If you find manual removal a bit too complicated, do not worry. Malware experts at Spyware-Techie.com have crafted an alternative removal guide for you. Simply follow the instructions below, and you will be able to delete Inspiratiooo.com automatically.