Do you know what InfoSeeker is?
InfoSeeker is an adware application that could be related to particular computer security issues. If you have this application in your computer, you should remove InfoSeeker immediately. Adware programs are not direct computer security threats, but they could be easily exploited by cybercriminals for their dirty purposes. Our research team says that this application is closely related to other potentially unwanted programs, so it is necessary to get rid of it and then scan your computer in search for other potentially unwanted applications. Do not forget that adware programs travel in packs.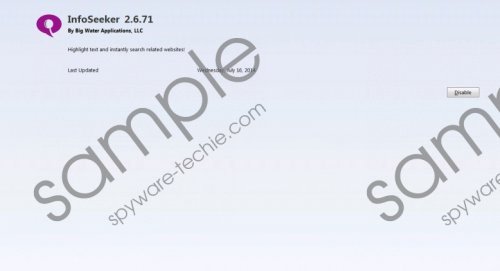 InfoSeeker screenshot
Scroll down for full removal instructions
Due to various similarities, InfoSeeker is often considered to be related to Websterois application. This association alone should be enough to convince you that there is nothing reliable about this application. Although it is possible to download InfoSeeker at infoseekerapp.com, and the website looks reliable, you should not trust the application blindly.
According to the information at the main website, InfoSeeker application instantly performs search for your favorite sites, this way enhancing your web browsing experience. It can also work anytime and anywhere, and it takes less than ten seconds to install InfoSeeker onto your computer. All in all, this browser extension is supposed to improve your web browsing experience, but the fact that Google Chrome blocks the add-on should be enough to raise the red flag – you have to understand that InfoSeeker is not a reliable application.
This add-on tries to advertise the following function – it says that after selecting particular text on a website, a button appears above the text allowing you to choose a search engine. Supposedly, this way InfoSeeker allows you to perform a search on particular keyword via a search engine of your preference. Everything sounds rather nice, but we have to keep in mind the reason InfoSeeker is called an adware application.
InfoSeeker will connect data on your web browsing habits in order to generate custom commercial adverts while you browse the Internet. It is not part of the application's plan to infect you with malware, but such a possibility exists. It is a common knowledge that adware apps are often exploited by malevolent third parties to deliver their corrupted content. And since InfoSeeker does not review the third-party content, it cannot be held responsible if you land on a malware-related site after having clicked one of the ads.
To take everything into account, if you want to keep your computer clean and safe, you should remove InfoSeeker right now. It is easy to uninstall InfoSeeker via Control panel, and if you do so, the extension will be deleted from your browser automatically.
How to remove InfoSeeker
Windows 8
Drag mouse cursor to the bottom right of the screen.
Click Settings on Charm bar and go to Control panel.
Select Uninstall a program and remove InfoSeeker.
Windows Vista & Windows 7
Click Start menu and go to Control panel.
Select Uninstall a program and remove InfoSeeker.
Windows XP
Open Start menu and navigate to Control panel.
Access Add or remove programs and uninstall InfoSeeker.
Take note that manual removal may not terminate all the unwanted files and processes, especially if InfoSeeker has arrived bundled with other freeware applications. Hence, you should seriously consider investing in a powerful antispyware tool.
In non-techie terms:
InfoSeeker is a potentially unwanted program that can slow down your Internet speed and expose you to unreliable websites. If you are not sure you can remove this application on your own, please refer to the removal guide below, presented by our research lab team.