Do you know what Indiashopps is?
Indiashopps is an application that works like an extension on the Chrome browser. As you can tell from the name, the program is there to help users purchase various things at a lower price. However, our research team categorizes this application as a potentially unwanted program. It means that this extension could exhibit a number of behavioral patterns that most of the users could consider undesirable. What's more, the program might have been installed on your computer accidentally, so it would be a good idea to remove Indiashopps from your system at once.
It is not possible to say that this extension is a malicious computer infection. The thing is that the application has an official homepage, and there is even an entry for this application on the Chrome Web Store. Therefore, the application clearly does not try to hide itself, and it does not plan to enter your computer surreptitiously. But of course, the official sites are not the only sources that are part of the program's distribution network. It is far more likely that this application has arrived bundled with several other programs in a software package. What's more, you probably downloaded and installed this package yourself.
How do users come across such software packages? They are often hosted on third-party file-sharing sites, and if you are looking for a particular application, you might encounter these bundles. The problem is that users seldom realize those third-party installers carry more than one application. As a result, they go through the installation process automatically, and they do not notice the additional information that tells them about the programs and extensions that will be added to their browsers. As you can see, it is possible to avoid the likes of Indiashopps if you were more careful about the programs you download and install.
For the most part, this extension affects Chrome users in India, but it is obvious that there are no national borders on the Internet, so if you happen to visit the websites that distribute Indiashopps, you might end up adding it to your browser, too. Luckily, this program is not an extreme computer security threat, so there is no need to panic. On the other hand, at the same time, you may not notice that you have this application on-board because it does not try to grab your attention. It means that the extension may run in the background for quite some time before you notice it.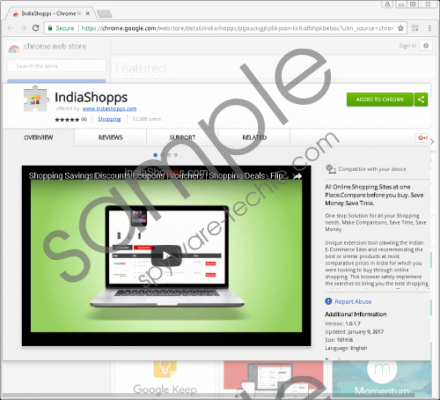 Indiashopps screenshot
Scroll down for full removal instructions
And there are several security issues associated with a long utilization of this extension. Just like most of the adware applications out there, Indiashopps will be very likely to collect information on your web browsing habits. This is necessary to provide you with custom content. If the program really helps you to compare prices between several online shops, it needs to know what kind of goods you usually search for. Hence, the application will track your web browsing habits, checking your search keywords, too. As a result, do not be surprised to see a lot of commercial ads that cater to your likes and preferences. After all, it just shows that Indiashopps does its job well.
However, there are certain security-related problems that can arise from such diligence. The problem is that Indiashopps will not check the third-party it promotes. So, even though the links this extension offers usually will lead you to various online stores, the program could also be exploited by cyber criminals. For instance, some of the price comparisons could be embedded with corrupted links that eventually would redirect you to dangerous pages. From there, you would be only one click away from a malware infection, so you need to do everything in your power to avoid that.
If you had no plans to install Indiashopps on your PC, you should remove it at once. You can simply delete the application via your browser's settings. However, if you think that there might be more unwanted programs on-board, and you certainly do not have time to hunt for them, you can invest in a licensed antispyware tool that will take care of the issue for you automatically. What's more, by acquiring a licensed security tool, you will also safeguard your system from similar intruders in the future.
How to Delete Indiashopps
Launch your Chrome browser.
Press Alt+F and go to More tools.
Open Extensions and remove the application.
In non-techie terms:
Indiashopps is a browser extension that should help users purchase their favorite products at a lower price. However, we have found that certain aspects of this application might be undesirable. The extension could indulge in monitoring your online activity for online marketing purposes. While it cannot steal your sensitive information, it could still be exploited by cyber criminals, so your best option right now is to remove Indiashopps for good.