Do you know what Incosic.com is?
According to our researchers, Incosic.com seems to be identical to mysites123.com, luckysearches.com, and many other browser hijackers that belong to same family as do all Qone8, Startsurf, and Webssearches browser hijackers. It is possible that you do not even notice at first that this infection has managed to infiltrate your system even if it changes your home page and other settings in your browsers. The reason is that this unreliable search page resembles other legitimate search engines so you may not think that it could be harmful. However, beyond the surface of this innocent look, there lies the ugly possibility of exposure to malicious websites and cyber crooks. But even if you remove Incosic.com right now, there is a chance that there are other threat sources on your system that could put your virtual security at risk. Please read our full report in order to be well-prepared for similar threats and solutions for taking them out.
This browser hijacker uses the same old distribution method as most of its peers: software bundling. Although this method used to be totally legitimate for free software developers to promote useful third-party tools or even legitimate ad-supported programs that helped them to raise some revenue so that they can go on developing software for free, nowadays bundles are very frequently used by crooks to spread malicious software installers and potentially unwanted programs packed together to infect unsuspecting and inexperienced computer users. Obviously, if your operating system is protected with an up-to-date anti-malware program, such as SpyHunter, such infections have no chance to infiltrate your system. However, a lot of users take these security issues lightly and think that they can protect their computers.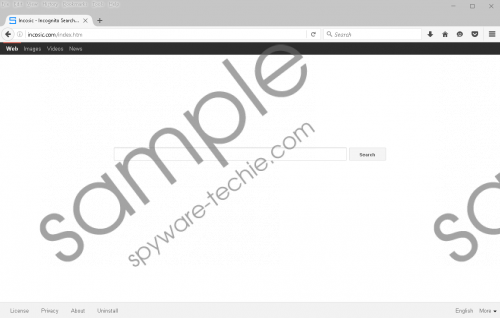 Incosic.com screenshot
Scroll down for full removal instructions
According to our researchers, most users get infected with Incosic.com after clicking on unsafe third-party ads, such as banners and pop-ups. This is possible if your computer is already infected with adware programs or you visit suspicious websites associated with gaming and file sharing (torrent and freeware pages). You should always be very careful with clicking on advertisements because you can never be sure where you might end up or what you might drop onto your system with one single click. If there is an adware program on your system, for instance, it is possible that legitimate third-party ads on reputable pages can get hijacked and lead to malicious websites. You cannot be safe if any application is on board that could expose you to unsafe web content, including this browser hijacker. However, since it is likely that there are multiple threats on your computer right now, we advise you to run a reliable malware scanner to detect all possible infections after you delete Incosic.com.
This browser hijacker can change your home page and default search engine settings in your major browsers, such as Mozilla Firefox, Google Chrome, and Internet Explorer. But this infection can also install extensions, such as QuickStart and Fast Start, which can also provide you with some unreliable content. The biggest issue about this hijacker is obviously its search results. This infection can collect information about your online activities and use this to target you with customized advertisements and links that it injects among the normal search results. This hijacker uses customized Google search pages to be able to promote third parties that may also be potentially unreliable at times. If you do not want to end up on malicious and fake websites run by criminals or infect your system with more malware programs, you should not think twice before you remove Incosic.com.
Unfortunately, this browser hijacker is a bit tricky and makes sure that you have some issues with eliminating it. When this infection is installed it changes the Target lines of your browser shortcuts, which results in launching your browsers loading this unreliable page every time even if you try to restore your home page settings manually through your browser settings. It is possible that you will find a working uninstaller in the list of installed programs in Control Panel that can undo these changes; however, it fails to restore the home page settings in your browsers. Therefore, you would still need to reset your browsers. Another option for you is to restore the Target lines and reset your browsers manually. We have included step-by-step instructions for this option to make sure that you leave no leftovers and you can get rid of this infection entirely. Since it is quite likely that there are other infections on board to worry about, you can either try to identify them manually or use a reliable anti-malware program to do all the hard work instead of you. A decent up-to-date security tool can safeguard your system from all known malware infections if you keep it activated at all times. If you need assistance regarding the removal of Incosic.com, please leave us a comment below.
How to restore the Target lines
Right-click on your browser shortcut on your desktop.
Select Properties and click on the General tab.
Make sure that the Read-only box is unchecked.
Click on the Shortcut tab.
Remove the extra string in the Target line after the quotes. Click OK.
Right-click on the shortcut on your Taskbar to display the menu.
Right-click on the browser name option at the bottom.
Repeat steps 2 to 5 to restore the Target line.
How to remove Incosic.com from browsers
Google Chrome
Tap Alt+F and go to Settings.
Scroll down and click Show advanced settings.
Scroll down and click Reset settings.
Press Reset.
Internet Explorer
Tap Alt+T and select Internet Options.
Choose the Advanced tab and click Reset.
Mark Delete personal settings and click Reset.
Press Close.
Mozilla Firefox
Tap Alt+H and open Troubleshooting Information.
Click Refresh Firefox at the top.
In the confirmation window, press Refresh Firefox.
Press Finish.
In non-techie terms:
Incosic.com is a useless and potentially harmful addition to your browsers that mostly emerges after a browser hijacker manages to crawl onto your system. Although this unreliable search engine resembles reputable search engines, the search results it displays could contain unsafe ads and links. As a matter of fact, this hijacker is capable of modifying the search results and uses customized Google search for doing so. We do not advise you to engage with any content coming through this browser hijacker. On the contrary, we recommend that you remove Incosic.com right away. Since this infection can come on board along with other malware threats, it is important that you identify all possible infections. For best results, we suggest that you download and install a reputable anti-malware program that will also protect your PC from further malware invasions.