Do you know what ImpaqSpeed is?
ImpaqSpeed is a potentially unwanted program that comes forth with a function you may find useful. However, this application exhibits additional behavioral patterns, and users often get annoyed by such things. If you did not want to have this application installed on your computer, it would be for the best to remove ImpaqSpeed, and then look for other tools that can provide you with the same service (that is if you require that). While you are at it, you should also consider scanning your computer with a security tool because potentially unwanted programs seldom travel alone.
Having that in mind, we would like to discuss the distribution patterns applied to these programs first. First, we would like to emphasize that potentially unwanted programs ARE NOT malicious infections. In other words, they do not hide their presence, and users often know (or should know) that they install these programs on their computers. Like most of the other potentially unwanted applications out there, ImpaqSpeed also comes with a homepage, and you can easily access the page via impaqspeed.melasys.com. The homepage is there to provide you with more information about the application, and to help you download it.
The download button on the official website works just fine, so we have no grounds to believe that ImpaqSpeed is a scammy application. On the other hand, there must be a lot of users who wonder how this program managed to enter their computers when they do not remember installing it. That can be explained by the fact that potentially unwanted programs have more than one distribution method. Sure enough, they can be downloaded from their official websites, but that is not the only source that distributes the app. ImpaqSpeed and other similar applications can come bundled with freeware.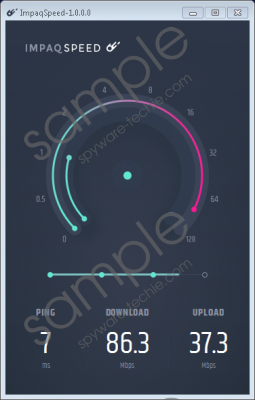 ImpaqSpeed screenshot
Scroll down for full removal instructions
Freeware refers to all programs out there that can be downloaded for free. Usually, such applications are hosted by third-party file-sharing websites. They are not malicious, and they can also be rather useful if you are looking for some program, and you cannot find the original source. Nevertheless, one has to be really careful when one downloads software from third-party sources because you might be in for a treat. And that treat won't be nice. Third-party installers are bound to bundle several applications together. So if you have recently downloaded a program from a third-party source, the chances are that it came bundled with additional apps and features, and ImpaqSpeed was one of them.
If we were to take a look at the program's functionality, we would see that there is barely anything suspicious about it. ImpaqSpeed offers you to test your internet speed, to see whether you have any problem with your ping, and so on. These functions do work, although, during our tests, we have found that the functionality of the program is not as accurate as that of other popular tools, which can be used to measure the internet speed. So the question is whether you would really need to keep this application on-board.
Perhaps the main problem with this application is that it can track information. ImpaqSpeed does not hide that from you, however, as the program informs users that it can track user-provided information, "information about your visit to the website," and "information based on cookies." So it can more or less check which websites you visit, and then store the collected information for advertising purposes. After all, we have found that this application can display commercial ads. So there is a possibility that it would display custom ads based on the data it has collected about you.
If you did not want to have ImpaqSpeed on your computer, you could simply remove the application via Control Panel. There is always a way to terminate the program manually, but you would have to locate all the program's files and folders, as well as registry entries, and that could be quite bothersome.
So uninstall ImpaqSpeed through Control Panel, and then scan your computer with the SpyHunter free scanner. If there are unwanted files left, the scan will detect that immediately. Make sure you terminate all the potential threats and protect your computer from similar intruders in the future.
How to Remove ImpaqSpeed
Windows 10 & Windows 8.1
Press Win+R and type Control Panel. Click OK.
Go to Uninstall a program and remove ImpaqSpeed.
Windows Vista & Windows 7
Click the Start button and open Control Panel.
Click Uninstall a program and remove ImpaqSpeed.
Windows XP
Open the Start menu and navigate to Control Panel.
Select Add or remove programs and uninstall ImpaqSpeed.
In non-techie terms:
With ImpaqSpeed, you should be able to measure your Internet speed. However, the question is whether you really need a third-party application to check your Internet connection. There are a lot of reliable online tools for that, and you do not need to install anything on your computer.
If it was not your intention to have ImpaqSpeed, you can remove the application immediately, following the instructions above. For more questions about your computer's safety, please do not hesitate to leave us a comment.