Do you know what Image Seeker is?
Image Seeker is an extension that promises to enhance browsing and provide users with a search tool that is specifically designed to deliver images. However, it seems that, at this time, the extension is completely useless. Its official website, image-seeker.com, presents an image with the words "coming soon" on top of it. And if you download the PUP (potentially unwanted program) from the Chrome Web Store, chrome.google.com/webstore/detail/pdknlomnfmcmikeeadjeoalmmjfababm, it does not seem to offer anything useful either. Perhaps it is still in development, but why would more than 7,000 Google Chrome users would have downloaded an extension that is not working properly? Clearly, something is not right with this picture. If you keep reading, you will discover why we suggest removing Image Seeker.
Perhaps the official download website of Image Seeker used to represent the PUP in the past. Did you download the suspicious extension from this website? If you did not, and you have not used the installer available on the Chrome Web Store either, you might have been introduced to the PUP via an unreliable third-party installer. In either case, this is as good a time as any to scan your operating system. Implement a malware scanner that is trustworthy, and once it is done inspecting your system, you will know if you should delete Image Seeker along with other suspicious pieces of software. It goes without saying that if more serious threats are discovered, you should research and remove them first. Of course, you could just employ a legitimate anti-malware application to have all threats removed at once.
Whether Image Seeker stands alone or along with other threats, you must not ignore it. Although it is introduced as a beneficial tool, it is evident that we are not shown the full picture here. Have you reviewed the PUP's Privacy Policy at image-seeker.com/?a=privacy? If you have not, you definitely should at your earliest convenience. This document reveals that the technologies it uses are meant to provide "advertising" services. It is meant to help undisclosed advertisers to "offer relevant advertising" as well as provide uses with "location-based […] advertising." So, did you install Image Seeker with the intention of flooding yourself with ads? If that is not the case, we are sure that you want to delete this PUP immediately. If you see no harm in being exposed to ads, let us warn you that you know nothing about the advertising partners of the PUP's creator, and that is why it is risky to trust them or their advertisements.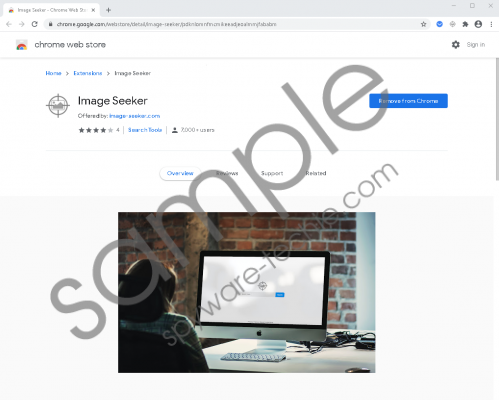 Image Seeker screenshot
Scroll down for full removal instructions
It is not hidden that Image Seeker reads browsing history, uses data-tracking cookies, and works with unknown parties to deliver ads. That said, just because an extension is relatively transparent does not mean that it can be trusted. At the time of research, it did not work, and that is reason enough to remove it from Google Chrome. If you agree with us, you might be thinking about the removal of the PUP right now. Are you interested in deleting this extension manually? Then follow the guide below to get rid of the unwanted extension and the data-tracking cookies. If other threats were discovered, if you lack experience, or if you want to save time, employ an anti-malware tool. It will delete everything automatically.
Remove Image Seeker from Google Chrome
Open the browser and then tap Alt and F keys together.
In the Chrome menu, click More tools and then Extensions.
Click the Remove button next to the PUP.
Go back to the More tools menu and click Clear browsing data.
Click the Advanced tab at the top and select a time range in which the PUP was installed.
Select the boxes you want and then click Clear data.
In non-techie terms:
Image Seeker might seem like a useful extension on paper, but when you install it, you are unlikely to receive useful services. On top of that, the extension can show advertisements, collect information about you and your browsing activities, as well as work with undisclosed parties, whose goals are not exactly clear. The good news is that it does not look like you would be losing much by deleting Image Seeker, and so you should not hesitate to get rid of the PUP. You can do that manually, using the step-by-step guide above, or you can implement an anti-malware tool that will take care of things automatically. This is the best option if you discover that the PUP exists with other threats.