Do you know what IdleCrawler is?
IdleCrawler is a botnet that "crawls" through various websites opening several tabs on your browser. It is related to GigaClicks and WebStroller crawlers, and it is not an extremely dangerous computer threat, because for the most part the botnet behaves like that in order to create an internet index. However, if you are not into web developing or marketing, and IdleCrawler is present on your system, it may point out an even serious problem. When you remove IdleCrawler from your computer, you have to check whether you have more unwanted programs on board because this botnet often arrives with adware and browser hijackers.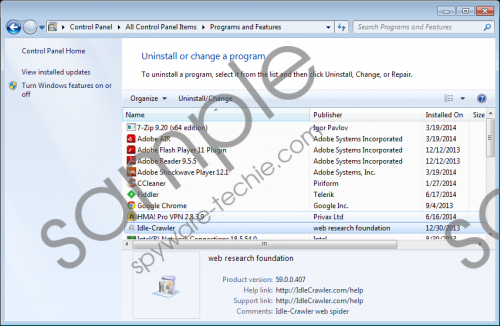 IdleCrawler screenshot
Scroll down for full removal instructions
Technically, there should be nothing wrong with IdleCrawler, because it has an official homepage at idlecrawler.com, and the botnet service has to be ordered directly by sending an email messages to its developers. It means that unless you want so, IdleCrawler should not be present on your computer. What is more, this botnet is promoted as "modern instrument for SEO and Marketing professionals from all around the world. IdleCrawler delivers you analytics data reports about your competitors tactic – keywords, advertising time and geo policy, activity of different products promotion." This crawler can handle up to two billion queries a day, and it seems like a useful tool, but if you do not remember installing anything of the kind on your PC, then your computer's security has most probably been compromised.
We are forced to believe that because, based on our lab team's research, IdleCrawler always comes bundled with third-party downloaders, it is often part of V9 hijacker, PC Optimizer Pro, AdLucky, JollyWallet and other potentially unwanted programs setup. When you install adware or browser hijacker on your computer, you will soon notice that you get redirected to unfamiliar websites, or that you are flooded with commercial advertisements. However, add to that IdleCrawler, and you will also have from four to six new tabs that will open on your web browser without any warning.
IdleCrawler uses your system resources to run so it might slow down your PC or your internet connection. It obvious that there is no reason to keep this botnet on your computer, especially if it arrived bundled with freeware. If cybercriminals exploit IdleCrawler for their own purposes, you might get exploited to corrupted websites.
It is easy to remove IdleCrawler via Control Panel. All you have to do is uninstall this botnet and then scan the PC with a legitimate computer security application that will detect other potential threats (as you are bound to have some). When you get rid of all the unwanted applications, get yourself a powerful computer security tool that will ensure your PC is protected 24/7.
How to remove IdleCrawler
Windows 8
Drag mouse cursor to the bottom right of the screen.
When Charm bar appears, click Settings and go to Control panel.
Select Uninstall a program and remove Idle-Crawler.
Windows Vista & Windows 7
Open Start menu and click Control panel.
Go to Uninstall a program and remove Idle-Crawler.
Windows XP
Press Windows key and open Control Panel.
Select Add or remove programs and uninstall Idle-Crawler.
You may also want to try the instructions below for a full threat removal. Should you have any further questions, please do not hesitate to leave us a comment.
In non-techie terms:
IdleCrawler is not a computer infection, but it may arrive together with potentially dangerous programs. It is in your best interest to remove this botnet from your system as soon as possible along with other possible threats.