Do you know what ID SafeXpress is?
ID SafeXpress is a system optimization tool that our security researchers have labeled as a potentially unwanted program. It means that this application may enter your system unexpectedly and that it may have certain undesirable features. If you wanted to have this application, it is up to you to decide whether you want to keep it on your PC. However, if you did not intend to have this program on-board, you should see to it that ID SafeXpress gets removed from your computer immediately. And don't forget that you may have more undesirable applications installed.
Why would we mention other programs here if you opened this description because of ID SafeXpress? Well, that is because of the way such applications spread around. Although this program has an official homepage, we would like to focus on another method of distribution. This method of distribution is far more frequent, and it is very likely that this is how his potentially unwanted program entered your PC, too. What we are talking about here is the bundled software downloads. Bundled software downloads refer to third-party installers that tend to carry more than one application, and users often download them from file sharing websites.
If you have recently downloaded a freeware application from some third-party source, it is very likely that ID SafeXpress came with it, too. What's more, you could have installed several applications on your system without even realizing it. Have you checked all the steps in the installation wizard, or did you just breeze through the installation? Negligent installation practice often leads to having a lot of unwanted apps on your computer, and that could lead to an entire palette of computer security issues. Hence, employing safe web browsing and freeware installation practice would save you the trouble of dealing with the likes of ID SafeXpress in the future.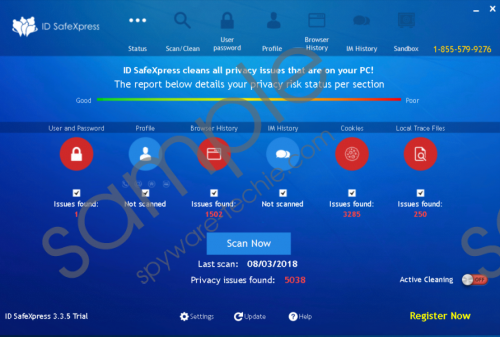 ID SafeXpress screenshot
Scroll down for full removal instructions
Now, if we were to visit the official homepage for this application, we would get the impression that ID SafeXpress is a very useful tool. The homepage is located at idsafexpress.com, and the moment you open the page, you will be assaulted with a lot of information that says ID SafeXpress is the next best thing about there. This program should help you delete the traces of your online activity, and for users who are concerned with online privacy, this might sound like a good idea. However, it does not mean that the application will allow you to do it just like that.
Once the program is installed, you can run a full system scan with it. During our tests, ID SafeXpress said that we have a lot of browser hijacker and cookies issues, although it is clear that we could easily delete our browser history via browser's settings menu, too. So it is rather questionable whether we need another program to do it for us when the feature itself is available by default. On top of that, ID SafeXpress does not delete anything for free. It says that you have to register (or subscribe) to unlock the full potential of the application.
Our research team says that subscribing to this service may not be a good idea because the application can collect your information. Although it is very unlikely that the program would still your personal data, it could collect personally non-identifiable information for online marketing purposes. Thus, in the long run, you may find yourself exposed to a variety of commercial content, some of which could be quite annoying. Hence, to avoid this intrusive behavior, you should seriously remove ID SafeXpress today.
Thankfully, removing this application is very easy, and you can delete it via Control Panel. The manual removal instructions you will find right below this description, and you should also terminate other unwanted programs that could be running on your PC. If you do not know which programs must be removed, scan your system with the SpyHunter free scanner.
Normally, it is possible to remove the unwanted programs manually, but if you feel it is too much for you, there is always another option. Using an automated antispyware tool is a fast and efficient way to terminate all the potential threats. Not to mention that by investing in a legitimate security application, you would also protect your system from other intruders in the future.
How to Delete ID SafeXpress
Windows 10 & Windows 8.1
Press Win+R and the Run prompt will open.
Type Control panel into the Open box and click OK.
Open Uninstall a program and remove ID SafeXpress.
Windows Vista & Windows 7
Move mouse cursor to the Start icon and click it.
Select Control Panel on the Start menu.
Go to Uninstall a program and remove the unwanted program.
Windows XP
Open the Start menu and navigate to Control Panel.
Go to Add or remove programs and uninstall the unwanted application.
In non-techie terms:
ID SafeXpress is a not a malicious computer infection, but this application may be associated with a variety of computer security issues. It is very common that system optimization tools do not live up to their promises. If you installed this program on your computer accidentally, we would like to suggest removing ID SafeXpress as soon as possible. Save your system resources and protect yourself from potential exploitation by terminating every single unwanted app today.