Do you know what HQ-Video is?
The advertisement supported program HQ-Video is considered to be a threat because it installs silently and enables advertisement supported software. JollyWallet is one of the many unreliable, invasive applications which could be installed alongside the supposedly beneficial application. If you do not remove HQ-Video and the related adware, it is likely that online advertisements will be presented and used as security backdoors. Unfortunately, this is what you will have to deal with once the application gets installed, even though it is presented as a tool which should 'display videos in their highest quality format available'. Continue reading to learn more.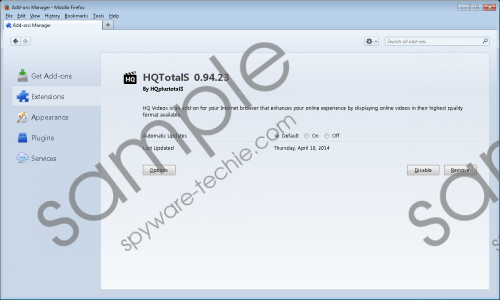 HQ-Video screenshot
Scroll down for full removal instructions
HQ-Video may be installed onto the computer using different names, including HQ Video Profession, HQ Video Pro, HQVid1.9v3, HQTotalS, etc. The application works in the exact same manner as HD Plus, and it can be installed onto the computer without your acknowledgement. It has been revealed that the program is often installed via fictitious installers. Beware of fictitious Java and media player update installers which are presented by unreliable software distributors in order to spread questionable applications. If HQ-Video and related adware is already installed onto the computer, it is likely that various pop-ups and banner advertisements are already flooding your browsers. Do not click on them unless you are 100% sure that you will not be routed to corrupted or misleading sites.
Computer users usually use automatic malware detection and removal software to remove HQ-Video. Even though this application can be deleted manually (see the guides below); however, the program usually runs alongside various suspicious, unreliable programs. Authentic security software should be able to track and delete all of them at the same time. SpyHunter is one of the legitimate, reliable tools you could use for this task. Click the download button below to acquire the application.
Delete HQ-Video
Remove from Windows XP:
Click Start on the Task Bar (button on the left) and select Control Panel.
Move to Add or Remove Programs.
Now select Change or Remove Programs.
Remove the suspicious application.
Remove from Windows Vista and Windows 7:
Navigate to the Task Bar and click the Start icon.
Select Control Panel and click Uninstall a program.
Right-click application you want to delete and select Uninstall.
Remove from Windows 8:
Right-click on the Metro UI menu screen.
Select All apps, click Control Panel and then Uninstall a program.
Now right-click the program you wish to delete and click Uninstall.
In non-techie terms:
HQ-Video is a browser extension which is considered to be an advertisement supported program because in most cases it runs alongside adware and it can enable third parties to place online ads on the web pages you visit. Even though you can use the manual removal instructions to delete HQ-Video, we strongly recommend using automatic malware removal software. Note that various undesirable programs may be running on the PC silently, and authentic security software will delete them for you automatically. If you wish to keep the operating system guarded in the future, we recommend keeping the installed security software updated at all times.