Do you know what HowToSimplified Toolbar is?
HowToSimplified Toolbar is a browser add-on. Some add-ons could actually enhance your browser's functionality; unfortunately, HowToSimplified Toolbar is not one of them. This add-on is malicious and quite aggressive as it will alter your default browser setting without any warning or authorization. Furthermore, the add-on could place your system in danger as other infections could use it as a gateway into your operating system. Running HowToSimplified Toolbar is a huge risk that you should not take under any circumstances. If you find this add-on running on your system, you should take immediate measures in order to remove it. Malware experts at Spyware-Techie.com are here to help you and they provide a specific removal guide that was crafted in order to help you delete HowToSimplified Toolbar in the most efficient way.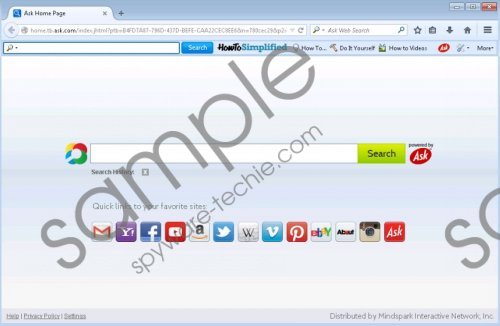 HowToSimplified Toolbar screenshot
Scroll down for full removal instructions
HowToSimplified Toolbar is yet another product of Mindspark that is infamous for such (perkeliau is kitos vietos) malicious applications as FromDocToPDF Toolbar, Popular Screensavers Toolbar, Citysearch Toolbar, BringMeApps toolbar and quite a few others. Therefore, it is not surprising that HowToSimplified Toolbar functions in a similar way as its counterparts. It is distributed via software bundles like most of the products developed by Mnidspark. Once the add-on gains access to your operating system it will instantly alter your default browser settings without your knowledge. Your default search engine and home page will be changed. In addition, a toolbar will be inserted as well. It is quite annoying and frustrating as you do not have any control over what is happening. The only way to regain the normal functionality of your browser is to fully remove HowToSimplified Toolbar.
Unfortunately, there is more to HowToSimplified Toolbar. Some malicious applications could enter your system by using HowToSimplified Toolbar as a backdoor. For instance, your operating system could be inserted with unknown malware after the HowToSimplified Toolbar updates itself; it is so because the application updates automatically and downloads whatever it needs without any warning. So among the update files there could be an executable that could contain a Trojan, keylogger, rootkit or any other internet-based infection. Remove HowToSimplified Toolbar from your system ASAP as the risk that this application imposes upon your system is the risk too huge to take.
The removal of HowToSimplified Toolbar is paramount. No malicious application should be active on your operating system. The removal guide that we provide will delete the malicious toolbar fully and will restore the default settings of your browser. If you wish to maintain a clean and secure system, and want to avoid any other infection it is strongly advised to invest in a reliable antimalware tool that would keep your system safe against any internet-based infection.
How to remove HowToSimplified Toolbar from your PC
Remove HowToSimplified Toolbar from Windows 8
Tap the Windows+Q keys simultaneously on your keyboard.
The search box will appear. You need to type in Control Panel and tap Enter.
Then select Uninstall a program.
Finally, locate HowToSimplified and double-click it to delete it.
Remove HowToSimplified Toolbar from Windows 7 and Windows Vista
Click the Windows button and then go to Control Panel.
Under the Programs section select Uninstall a program.
The select HowToSimplified and click Uninstall.
Remove HowToSimplified Toolbar from Windows XP
You need to tap the Windows key on your keyboard.
When the Start menu appears, select Control Panel.
Then click Add or Remove Programs.
Now right-click HowToSimplified and select Remove.
In non-techie terms:
Any malicious application on your system is a major threat to your system. HowToSimplified Toolbar is no exception and it needs to be removed as soon as it is found on your PC. If you think that manual removal might be too complicated, please follow the instructions blow.