Do you know what Hotweb360.com is?
If you have discovered a program entitled Hotweb360.com active on your personal computer, you must know that it should be removed without any hesitation. This is important since this application is nothing more than yet another browser hijacker that will make surfing the web a frustrating and annoying task. This happens because the devious program is capable of making undesirable changes without any notification or authorization. While these annoying features are the primary reason you should terminate this hijacker immediately, you should also know that in some cases it could act in a rather alarming manner. In fact, due to this intrusive program, your operating system could be exposed to suspicious and even harmful online content, which in consequence could lead to a system infection. To understand how this could happen, make sure to read the rest of our report.
The overall functionality of Hotweb360.com is quite basic as it resembles the inner working of many other hijackers that are active nowadays. Once this hijacker gains full access to your operating system, it will silently make devious modifications to your certain files and registry entries linked to your browser's default settings. All of this happens without requiring any authorization from the user, which is annoying to put it lightly. The main change triggered within your browser's default settings is of your homepage. This changes, even though it might seem insignificant at first, will have an immense effect on the way you experience the web. Unfortunately, that effect will be a negative one. Due to such alteration, you will not be able to start online sessions on a website of your choice since the hijacker will force you to use a suspicious third-party site as your default homepage at all times. This change will remain intact for as long as the devious program in question is up and fully running on your computer. You should also know that the seemingly useful search box within the suspicious site is, in reality, not that great. Our research team has discovered that in some instances it will present worthless sponsored results. In some situations, such results might not even be related to your original search query. To regain your browser's default settings and to surf the web the way you are used to, make sure to execute a thorough removal of Hotweb360.com right away. Be sure to make use of the detailed removal guide that we provide below.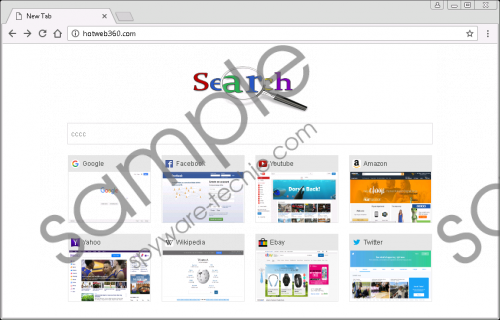 Hotweb360.com screenshot
Scroll down for full removal instructions
Unfortunately, there is something much more alarming about Hotweb360.com than its intrusive features. Our research team has discovered that in the majority of cases this dubious program is spread via bundled installers. Thus, it is not surprising that other questionable programs might already be active on your PC as they could have come along with the hijacker in question. To be sure, we advise you to conduct a detailed analysis of your PC for other suspicious applications. Another alarming thing about this browser hijacker is the search box within the suspicious homepage. During further analysis, malware experts at Spyware-Techie.com have discovered that in some cases using this search field could have detrimental outcomes since some results could be embedded with redirect links. This means that by clicking on such a result, you risk of ending up on suspicious and even potentially malicious websites. Some of those web pages might be crafted by malware developers in such a way that just entering them could be more than enough to get your personal computer infected with some unknown malware. Such potentially harmful functionality of this browser hijacker should not be tolerated under any circumstances. Make sure to delete every single bit of Hotweb360.com as soon as it is found up and running on your PC.
The complete removal of Hotweb360.com must be executed without any delay as keeping it active on your PC could have devastating outcomes, to put it lightly. Follow the instructions with care to delete every single bit of this browser hijacker because that is the only way to restore your browser's default settings. To be sure that no traces linked to Hotweb360.com are active on your PC, we highly recommend analyzing your PC for leftovers as soon as you are done with the manual removal. This is important since traces of this browser hijacker could be enough to silently restore it.
How to remove Hotweb360.com from your personal computer
Click the Windows button.
Type regedit into a search box and then tap Enter on your keyboard.
Go to to HKEY_CURRENT_USER\Software\Microsoft\Internet Explorer\Main.
Right-click a registry value entitled Start Page and select Modify.
Replace the unwanted URL with a new one and then click OK.
Open the File Explorer.
Go to C:\Users\[your username]\AppData\Local\Google\Chrome\User Data\Default.
Delete files entitled Preferences, Secure Preferences, and Web Data.
Go to C:\Users\[your username]\AppData\Roaming\Mozilla\Firefox\Profiles\[unique Mozilla profile ID].
Locate and then delete a file called prefs.js.
In non-techie terms:
If you are a user that finds manual removal a bit too complicated, do not worry. Our research team has crafted an alternative removal guide below. By following these instructions carefully, you will be able to delete Hotweb360.com automatically.