Do you know what Hoptoshop Coupons is?
HoptoshopCoupons can only be described as a potentially unwanted program, because it doesn't do anything useful. Therefore, we are of the opinion that you should remove it as soon as you can. Our researchers have found this application to be misleading because it does not provide the services it claims to provide. Hoptoshop Coupons is not dangerous on its own, yet we still encourage you to remove it, because it does not serve any useful purpose whatsoever.
Hoptoshop Coupons has a dedicated website called Coupons.hoptoshopapp.com. The website's slogan is, "Find and share the latest coupon codes for great discounts at thousands of online stores!" this slogan is as misleading as the coupons it claims to provide. First of all, their supposedly legitimate coupons will not be accepted at the "thousands of online stores." Indeed, Hoptoshop Coupons provides discount coupons for only a handful of online shopping websites; these include Amazon, Ebay, Bestbuy, Walmart, Homeshop18, and so on.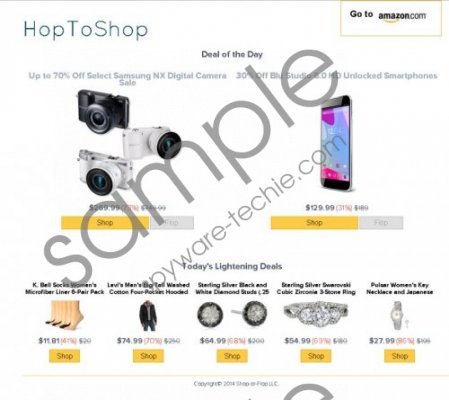 Hoptoshop Coupons screenshot
Scroll down for full removal instructions
However, our researchers have found that these coupons don't actually work. If you click on a coupon, the browser will prompt you with a message that the coupon code has been copied to your clipboard. That simply isn't true. You will only get redirected to the website of the online store, and that is all you get by using this application. It is painfully obvious that this application is useless, so there is no reason to use its website or keep Hoptoshop Coupons on your computer. Therefore, we advise you to remove this useless app.
Hoptoshop Coupons invites you to never miss a deal by receiving notifications about exciting new offers. It claims that by using its services you can get a discount of up to 50% for fashion, movies and TV shows, and so on. On top of that, it also claims to provide free shipping. However, you will not receive any discounts, any free shipping, or any good deals whatsoever.
Hoptoshop Coupons can be downloaded directly from the Chrome Web Store. It features three different versions, including Hoptoshop Coupons for Amazon.com and Hoptoshop Coupons for Amazon.co.uk, as well as Hoptoshop Coupons for Ebay.com. However, the application doesn't really do anything. After clicking the app you will be redirected to its website that features ads with supposedly great offers. If you click on an ad, you will simply be redirected to the online shopping website and that will be the end of it.
All in all, Hoptoshop Coupons is a waste of hard drive space. It doesn't do anything useful apart from just displaying misleading ads and fake coupons. Therefore we advise you to remove this useless application as soon as possible. Note that you can easily remove it from Google Chrome by following our removal guide below.
How to remove Hoptoshop Coupons
Launch Google Chrome.
Type chrome://apps in the address bar.
Locate Hoptoshop Coupons in the apps list.
Right click on Hoptoshop Coupons.
Click Remove from Chrome.
Done.
In non-techie terms:
Hoptoshop Coupons is considered to be a potentially unwanted program, because it doesn't do anything useful. Our researchers have discovered that the apps featured on its website are fake and do not work. Furthermore, the application itself is misleading, because it only redirects you to a particular online shopping website and offers no discounts. Therefore, we recommend that you remove this useless app as soon as possible.