Do you know what Honor Ransomware is?
Honor Ransomware is a new ransomware infection you, believe us, do not want to encounter because it makes almost all personal files unusable the moment it infiltrates users' computers. As research conducted by our team of experienced specialists has shown, it renames and mercilessly encrypts a bunch of personal files, including documents, images, videos, and music. Honor Ransomware is a newly-discovered threat, so it should not be very prevalent. Even though it does not belong to the group of popular malicious applications, ordinary users might still encounter it if they are careless and their PCs are unprotected. If you have already found a bunch of files locked on your computer and suspect that this ransomware infection is responsible for making it impossible to access them, you should check your Desktop (%USERPROFILE%\Desktop). If you can locate such components as secret.txt, secretAES.txt, data recive, and sendBack.txt there, it means that you have encountered Honor Ransomware. Do not let it encrypt more files on your computer – delete this infection fully from your system. It will not be easy to do this because it has many components and creates a Value in the RunOnce registry key, but you should still be able to get rid of this nasty infection yourself if you read this report till the end and then let instructions provided below this article help you.
There is no doubt that Honor Ransomware has infiltrated your computer if you can no longer open a bunch of files, their names have been changed without your knowledge, and they all have the .honor extension appended to them. Unfortunately, this infection targets files with the most popular extensions, for instance, .mp3, .mp4, .mpeg, .pptx, .odp, .java, .jpeg, .jpg, .max, .mdb, .png, .kdc, .rar, and others. Surprisingly, this ransomware infection does not leave a ransom note to users after encrypting their personal files. This means that Honor Ransomware developers do not want money from users. On top of that, it means that it is impossible to purchase the decryption tool from cyber criminals behind this ransomware infection. At the time of writing, free decryption software did not exist either. These encrypted files cannot be fixed, but you can restore them from a backup. This will be impossible if you have never backed up any of your files. In any event, you must delete the ransomware infection from your system.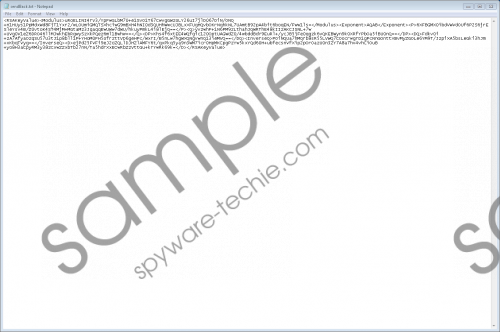 Honor Ransomware screenshot
Scroll down for full removal instructions
Honor Ransomware is definitely not one of those prevalent ransomware infections, so specialists still find it hard to talk about its distribution. According to them, even though it is not distributed very actively, it should mainly travel just like similar ransomware infections. That is, it should be spread as an email attachment. It might be made to look like an ordinary document to make sure the majority of users open it without fear and allow the ransomware infection to enter their computers. It is a very popular method to promote ransomware, but, of course, it is not the only one. Our specialists say that ransomware-type infections might be uploaded to P2P websites too, so be very careful with software you download from the web. We do not think that this will be enough to ensure the system's maximum protection. If you want to be sure new malware cannot slither onto your computer and cause harm, you should also install security software on your system. We want to warn you that not all antimalware tools that can be downloaded from the web are trustworthy.
You can delete Honor Ransomware from your computer either manually or automatically. If you decide to erase it yourself in a manual way, you will need to delete all components that belong to this ransomware infection one by one and then remove its entry from the registry key. This might sound quite complicated, but you should be able to erase this threat yourself if you follow our step-by-step manual removal instructions provided below.
How to delete Honor Ransomware
Launch Run (press Win+R).
Type regedit and click OK.
Move to HKCU\Software\Microsoft\Windows\CurrentVersion\RunOnce.
Locate the adr Value, right-click it, and select Delete.
Close Registry Editor and open Explorer (press Win+E).
Open %USERPROFILE%\Desktop.
Remove the following files one by one: data recive, secret.txt, secretAES.txt, and sendBack.txt.
Empty Trash.
In non-techie terms:
Honor Ransomware is a new infection that encrypts users' files. In most cases, ransomware infections lock files on users' computers so that they could extract money, but Honor Ransomware, surprisingly, does not demand money from users after locking data on their computers. It means that it is impossible to purchase the decryptor from cyber criminals and unlock files with it (we do not say that we recommend paying money to crooks). Because of this, these files can only be restored from a backup. Before you do that, you need to delete the ransomware infection from your system fully either manually or automatically.