Do you know what Homepage-web.com is?
Homepage-web.com is a search engine that is often confused with a malicious browser hijacker. The only similarity between a genuine browser hijacker and this search engine is that they do modify your browser settings. However, while a browser hijacker does that without your permission, Homepage-web.com changes your default homepage and search engine only when it notifies you first hand. Naturally, if you do not want to keep this program on your computer, the best option would be to remove Homepage-web.com at once. The most important thing is not to panic because there is no need to fret over something as trivial as this program. All you have to do is take care of your PC's security, and everything will be just fine.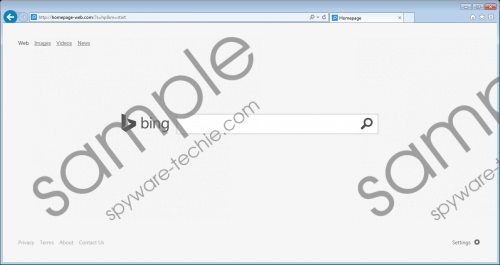 Homepage-web.com screenshot
Scroll down for full removal instructions
We would suggest that you scan your PC with a licensed antispyware tool because our guess is that you have multiple undesirable programs on your system. The point is that Homepage-web.com does not travel on its own, and it usually comes as a special feature of other programs. During our tests, we have found that Homepage-web.com usually get distributed as a part of the Pokki Windows 8 Start Menu update. Pokki Windows 8 Start Menu is a freeware application that is supposed to provide you with a Start menu for Windows 8. As you probably know, this operating system does not have the traditional Start menu, and it baffles users quite a lot. Thus, applications like Pokki come forth with the intention to provide you with the well-known utility.
However, when you update this application, the update comes with additional features like Homepage-web.com. There could be other software included in the update as well. You have to be attentive when you install anything on your PC. As far as the Pokki update is concerned, it DOES give you the option to deselect Homepage-web.com and other additional features during the installation. If you happen to go through the process hastily, you may not notice all the notifications and messages about additional software. As a result, Homepage-web.com gets installed on your PC, and it changes your browser's settings. All the major browsers are affected by this search engine, so you may not escape this modification if you breeze through the update installation.
Naturally, Homepage-web.com does not try to infect you with malware or anything. However, this search engine is too vulnerable to outside threats and exploitations. Not to mention that it cannot provide you with a reliable search service. Depending on your location, all of your search queries will be redirected either to Bing (for the US users) or Google (Europe). Thus, as you can see, keeping Homepage-web.com on-board is just a waste of time and space.
You will need to reset your browser settings to default and then delete all the unwanted programs via Control Panel to get rid of Homepage-web.com. Investing in a licensed antispyware tool would also be a good idea because you can never know what unwanted programs will enter your computer and when that will happen.
Please stay away from third-party file sharing websites, and exercise caution when you install new programs on your PC. Unless you download an application from its official website, you can never know what additional programs it might come with.
How to Uninstall Unwanted Programs
Windows 8 & Windows 8.1
Slide the mouse cursor to the bottom right of your screen.
Click Settings on the Charm bar and go to Control Panel.
Open Uninstall a program and remove unwanted applications.
Windows Vista & Windows 7
Open the Start menu and click Control Panel.
Go to Uninstall a program and remove unwanted applications.
Windows XP
Click the Start button and navigate to Control Panel.
Select Add or remove programs and uninstall unwanted applications.
Restore Your Browser Settings to Default
Internet Explorer
Press Alt+T and click Internet options.
Open the Advanced tab and click Reset.
Mark Delete personal settings and click Reset.
Pres Close.
Mozilla Firefox
Press Alt+H and click Troubleshooting information.
Click Refresh Firefox at the top right of the new tab.
Click Refresh Firefox on the confirmation box.
Press Finish.
Google Chrome
Press Alt+F and click Settings.
Scroll down the click Show advanced settings.
Scroll down and press the Reset Settings button.
Click Reset.
In non-techie terms:
Homepage-web.com is just a search engine that is a complimentary part of a potentially unwanted program. You are strongly advised to remove this search engine from your browser to avoid potential security issues. Please leave us a comment if you need any assistance with Homepage-web.com removal. For an alternative software removal method, you can always refer to the secondary set of instructions below.