Do you know what HolidayPhotoEdit Toolbar is?
HolidayPhotoEdit Toolbar is an extension for your Google Chrome, Mozilla Firefox, and Internet Explorer web browser. The users of the first browser can find the official installer of this Toolbar on the Chrome web store at chrome.google.com/webstore/detail/holidayphotoedit/ompcmhnafgchjgmdcdopfhlebohkgall. The users of the other two browsers can download it from holidayphotoedit.com. This installer forces users to accept homepage modifications as well, and the toolbar is represented via the New Tab page on all three web browsers. Because this toolbar leaves users with no option but to change their homepages, some users are quick to identify it as a browser hijacker. If you agree with that, you probably want to delete HolidayPhotoEdit Toolbar from your operating system right away. If you are not so sure that the toolbar is unreliable or that it should be deleted, you should read this report.
As you should know already, HolidayPhotoEdit Toolbar was developed by Mindspark Interactive Network Inc. This company is responsible for GifaPalooza Toolbar, NewNoteCenter Toolbar, and hundreds of other toolbars that, generally, work in the same ways. While they promote links to different websites, they all use the same suspicious search tool, and they are all involved in the advertisement of third-party content. It appears that HolidayPhotoEdit Toolbar was set up to promote photocollage.com, freepdfconvert.com, and ribbet.com services. According to the official information, the toolbar itself is meant to help you modify photos, create gifs, and convert files. Of course, it is not capable of that. All it can do is provide you with links that route to websites that enable modifying photos, creating gifs, and converting files. Obviously, if you have installed the extension, you know already just how useless it truly is, and that is a motive to delete it.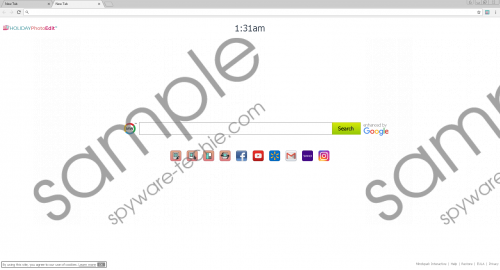 HolidayPhotoEdit Toolbar screenshot
Scroll down for full removal instructions
Whenever we are discussing the programs created by Mindspark Interactive Network, we always have to discuss MyWay Search. This search tool comes bundled with the toolbar, and hp.myway.com will be set as your Mozilla Firefox or Internet Explorer homepage if you go through with the installation. This search tool takes the search results from Google, which is why it uses the "enhanced by Google" tag to represent itself. That being said, search.myway.com is not a search engine we recommend using because it recycles search results and adds its own links that might promote sponsored content. If that was the case, the search tool could not be considered to be highly beneficial. Unfortunately, you can delete the search tool only by deleting HolidayPhotoEdit Toolbar. In conclusion, if you do not enjoy the services provided, and you do not trust the search tool offered, it might be time for you to remove this potentially unwanted program.
Whether or not you delete HolidayPhotoEdit Toolbar is something you have to figure out on your own. It is not a critical infection, but it can change your browser's settings against your wishes, and its services are not very useful. If you decide that it is best to remove HolidayPhotoEdit Toolbar, you can use the instructions below. Chrome and Firefox users can eliminate this toolbar by erasing the right extension, and Internet Explorer users need to uninstall an application representing it. Our research team is ready to help and answer all other questions that might have not been answered in this report. If you want to initiate a conversation, please leave your thoughts in the comments section below.
Remove HolidayPhotoEdit Toolbar
Mozilla Firefox
Open the browser and tap keys Alt+T.
In the Tools menu select Add-ons.
Move to Extensions and then Remove the undesirable add-on.
Google Chrome
Open the browser and tap keys Alt+F.
Click More tools for additional options and then select Extensions.
Click the recycle bin icon next to the undesirable add-on and then select Remove.
Internet Explorer
Launch Explorer by tapping Win+E keys on the keyboard.
Enter Control Panel\Programs\Programs and Features into the bar at the top.
Uninstall the undesirable application.
In non-techie terms:
Have you downloaded HolidayPhotoEdit Toolbar onto your PC on its own, or was it installed bundled with other pieces of software? Install a legitimate anti-malware tool now, and if any other threats exist, they will be eliminated at the same time. If at this time you are only interested in deleting HolidayPhotoEdit Toolbar, the guide you can find above should be enough to get rid of it. Note that you need to uninstall an application if the toolbar is represented via Internet Explorer, but you need to remove an extension if the toolbar works on Chrome or Mozilla Firefox. In the future, you should be more careful and selective when it comes to new apps and extensions. If you continue downloading anything and everything that appears to be useful, you could get burned. The toolbar discussed in this report is just a PUP, but there are programs out there that can be extremely malicious and that can cause serious security problems.